Now that it's officially come back from the dead, Sierra is bringing some of its classic PC games along with it. Activision said in a press release today that its recently-revived subsidiary is working on a new installment in the renowned adventure game series King's Quest.
These Great Fortnite Creative Maps Show Us What's Possible
Fans of the genre have a lot to be happy about here. The King's Quest series is considered one of the hallmarks of eighties and nineties-era adventure gaming alongside other classics like Loom and the Monkey Island series. And while Tim Schafer has given people hungry for more of these kinds of games plenty to look forward to with his recent crowdfunding-enabled successes, Sierra's sudden revival at the hands of Activision also suggests that the upper echelons of the big-budget video game industry are now keen to revisit the form as well.
Indeed, Activision's presser went on to suggest that it's planning to use Sierra as a sort of gateway through which smaller, indie-friendly projects can pass. Bob Loya, Sierra's director of external development, said that his company's new goal is "to find and work with talented indie developers working on their own amazing projects, or passionate about working on great Sierra IP, and leverage our expertise to aid them in bring these fun and exciting experiences to gamers with the level of visibility and awareness they deserve." They're already in talks with "a large number of other indie devs," he added.
G/O Media may get a commission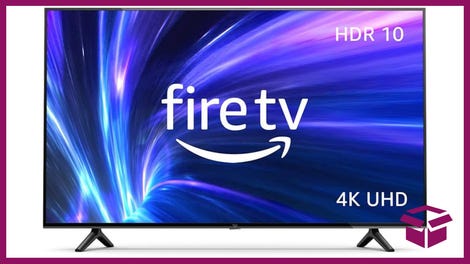 42% Off
Amazon Fire TV 50" 4K Smart TV
Keep in mind, this is Activision we're talking about. So "smaller and indie-friendly" could mean pretty much anything that's not at the size of Call of Duty, Diablo, Skylanders, or World of Warcraft. That's, well, a lot of games.
First up? In addition to a new King's Quest, Sierra and Activision also announced that they're producing a new Geometry Wars. Dubbed Geometry Wars3, the game is due out later this year. If these next-gen triangles are half as much fun as Sony's arcade style shooter Resogun, I'll be happy.
To contact the author of this post, write to yannick.lejacq@kotaku.com or find him on Twitter at @YannickLeJacq.