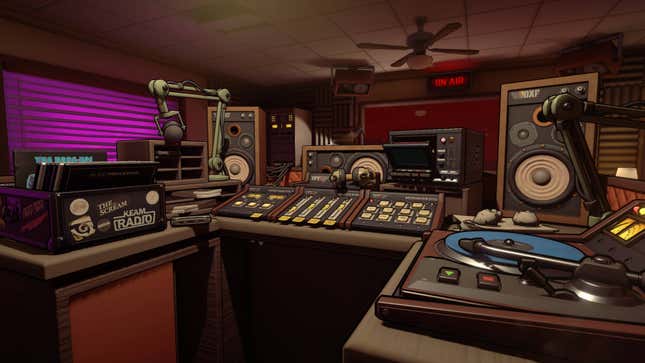 Indie developer Team17's Killer Frequency, out June 1, surprises me by having some of the best, most convincing voice acting and dialogue I've witnessed in a horror game. It's a tragicomedy set in a radio station in the '80s, and this necessitates a schmooze-y charm for its characters, but I'm impressed by how well it executes its conceit to create a uniquely entertaining, scary experience.
The Week In Games: Creepy Neighbors And Cursed Trains
Team17's singular horror vision already impressed me this year when I played Dredge, a half-spooky, half-chill fishing game, but Killer Frequency is somehow even more niche than that. During my hour-or-so preview, I start believing it was made in a lab to appeal to people exactly like me. In other words, people who go to the movie theater to watch slashers and laugh at the bad deaths, and who are, separately but with equal passion, nostalgic about the indescribable sexual charge of their college radio station.

Killer Frequency dips its fingers into both those categories and smudges them like acrylic paint, coloring a gaming experience that is, more than it is an actual gaming experience, about conversation. As Forrest Nash, a tarnished bigshot who went from five million listeners to a humbling 35, I operate the Gallows Creek late-night radio show on the anniversary of serial killer the Whistling Man's presumed death. Only, as the game informs me immediately, he's not dead. He's blowing out a dehydrated, three-note tune near the police station, then the woods, and all over our small town, where he's killing everyone he can catch.

One of his victims is Sheriff Matthews, Gallows' first line of defense and, unfortunately, one of its three total cops. The other two are passed out after an encounter with the Whistling Man and on vacation in Cancun, respectively.

So while 911 operator Leslie makes the four-hour round trip to get help from the nearest town, all 911 calls are being rerouted to my radio station. In first person point-of-view, and with the assistance of my occasionally flirty producer Peggy, I introduce amusingly on-the-nose, fictional synth-pop records like "Stab in the Twilight" by Knife and EZ; play paid, hyperlocal ads from "Giblet Field" (known for its "famous gourd measure-off"); and take calls from panicked neighbors encountering the Whistling Man.

Though Forrest welcomes his 35 listeners back to the station with professional relish—you're listening to "189.16...The Scream," he says, drawn-out and throaty—he is not a perfect 911 operator. Snared like squirrels, residents beg him for help in choosing weapons, jumping their cars, and sneaking out of office buildings to avoid getting beheaded by the Whistling Man, and, as him, I select from dialogue options, some of them timed, to help them achieve this goal.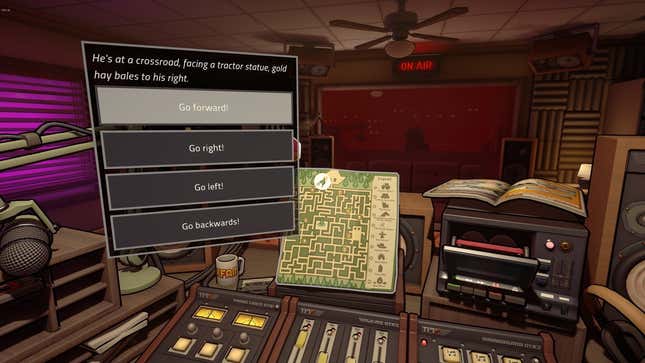 I find myself using a combination of gut feeling and Peggy's advice to search around the office for useful information, ultimately either telling people to pick the taser over the pepper spray because I want to, or to put the screwdriver in the ignition because a magazine I found in the bathroom says so. This approach has mixed results, and I end up getting two residents killed. Oops!

The game is deft at maintaining its semi-serious tone even in these tense moments, typically allowing players to choose from either somber or flippant dialogue to decide how empathetic Forrest should feel during his moment as hometown anti-hero. When I accidentally lead a jazz running woman right into the Whistling Man's blade, for example, I choose flippant, and Forrest says he hopes the woman is jazz flying to heaven.

I'm glad that this suits my sense of humor, because there isn't much happening in Killer Frequency aside from what you hear over the phone. Though the game seems to be set up like Five Nights at Freddy's, where successfully navigating a scenario slowly drags you later into the night—12 a.m., then 12:42, 1:04, and so on—most of the action happens off-screen.

The game's graphics are stylistically cohesive—smooth, colorful, and outlined in thin, cartoonish black lines—but other than Peggy's silhouette fidgeting anxiously on the other side of the broadcast booth, there isn't much visual stimulation. I find myself flicking through the station's record collection or sinking crumpled paper into a trash can's basketball hoop while people scream at me for help.

But I'm not particularly bothered by visual boredom. Intently listening to callers' predicaments in an effort to unravel and resolve them is fun enough for me, someone who, like Forrest, interviews people on the job, and recreationally likes gossip and synth-pop. The voice actors performances are, across the board, immaculate, handling lines' tone and cadence with a light touch and delivering a convincing black comedy.

I'm excited to play more of Killer Frequency. Renewing interest in radio could save people from making more podcasts.