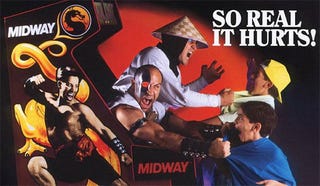 Midway's creditors—and the judge presiding in the company's bankruptcy case—sound... displeased by the Chicago-based developer and publisher's sale to private (mystery!) investor Mark Thomas. The judge calls it "a matter of very, very serious concern."
And that's serious.
Thomas, who bought controlling interest in the bankrupt Midway for a rather paltry $100,000 USD—he was also buying into $70 million in debt, mind you—has been rather quiet on the matter, but is at the center of dispute from people that Midway owes plenty of money to.
Judge Kevin Gross seems to agree to Midway's creditors on the suspicious nature of the sale of Midway from Sumner Redstone's National Amusements to Thomas, with The Deal calling the sale a "sacrifice" on the part of Midway's former owners.
"This is a game company," Gross said, according to court transcripts, "but that did not give National Amusement the right to treat a public company as if it were a toy."
With Midway about to run out of cash, money that Thomas is claiming as collateral from the sale could help keep the company afloat a little longer. Whether the bankruptcy court will find in favor of Midway's creditors and how long Midway will survive, remains to be seen.
Mortal combat [The Deal]