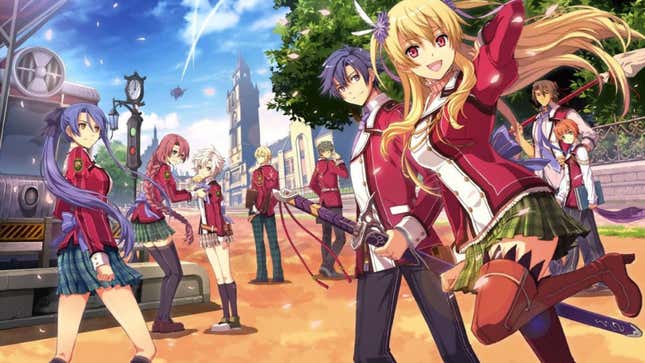 Brittany Avery worked at Xseed, a US studio that specializes in localizing and publishing JRPGS, for seven years as a production coordinator and then localization producer before leaving the company. Recently she discovered that her name had been removed from the credits on a game she worked on. In response to the controversy, Xseed revealed a policy that caused instant backlash from developers and players.
The Week In Games: What's Releasing Beyond Diablo IV
Yesterday on Twitter, Avery revealed the news that her name had been removed from the credits in a port of a game she worked on called The Legends Of Heroes: Trails Of Cold Steel.
Fans of her work and the games she helped translate immediately responded, calling out Xseed on Twitter. Eventually, this backlash grew large enough to prompt the company to respond. For some reason, they decided to respond in the worst possible way ever with the reveal of a policy that only current staff members are credited.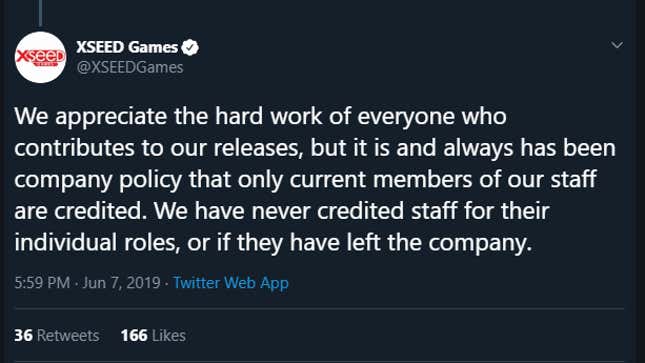 According to this tweet, Xseed never credits developers after they leave the company, choosing instead to only credit people who are at the company when a game launches. This tweet caused an even bigger backlash, this time with many developers responding.
"Your company policy for crediting is and had been pretty bad then, and you should probably change it for the future," said Rami Ismail, developer of popular indie games like Ridiculous Fishing and Nuclear Throne.
"You should have a meeting on Monday about this," tweeted Nick Chester of Epic Games, the studio behind Fortnite.
This policy is terrible and erases the hard work of people who might have spent years working on a game and simply because they leave before the game is shipped, all that work is left uncredited. Xseed isn't alone in not properly crediting folks who leave or are let go during development. Rockstar Games has also come under fire for seemingly similar policies.
Video game workers being able to create and join a union would help kill this practice and also provide them with healthier work environments and better pay.
Update - 5:10pm, June 21: Shortly after publication of this article, Xseed sent us a statement from the company's executive vice president Ken Berry regarding their crediting policy. Due to a communication error, we did not see the statement until this week. We present it here in full:
Our crediting policy is an inclusive one, meaning that everyone in the company gets credited on each project. Starting as a publisher with only 6 employees, the reasoning was we all worked as a team to see it through to release, so regardless of anyone's specific involvement in a title, we would credit the entire company with each person's official title to make sure nobody was ever excluded.

Outside contributors, such as contracted translators and editors, would be credited first separately from the company by their specific role on a title. We strongly believe in people being credited for their contributions, and would often reach out to our outsourced QA houses to get a list of all their testers who worked on each project because we wanted them to feel invested in the title and take pride in their work.

So rather than being a list of who did what on each title, our credits are like a snapshot of all XSEED Games' employees at the time the credits were finalized. Perhaps this policy needs to be reevaluated as we approach 20 full-time employees and have remasters using content that was first published years ago, but any revisions will have to make sure that our full team continues to be credited on each title, regardless of how much personal involvement an employee may have had on a specific game.

In-game credits often have a lot of restrictions imposed upon us by the development team, but the physical manual is where we have a lot more leeway without many outside constraints. As for the Trails of Cold Steel remasters on PS4, if we would have had the credits in the back of the owner's manual as we usually do then perhaps we could have had a 'Special Thanks' section for everyone who worked on previous iterations of the game, but we decided as a team to forego the credits to instead offer some bonus comics which we licensed from Falcom to give even returning fans something new to enjoy.

I hope this response is helpful. I encourage you and others to look through the physical manuals of our past releases to confirm what our crediting policy has always been with respect to both outside and internal contributors.

— Ken Berry, Executive Vice President at XSEED Games
(Note: We've also updated the first paragraph of this article to note Avery's roles at the company. In the PS3/Vita versions of Trails of Cold Steel II she was credited as a production coordinator, before being promoted to localization producer shortly before the game's September 2016 North American release.)