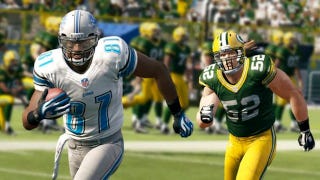 For sports fans, there's nothing more powerful than superstition.
Sometimes we wear the same worn-out jersey every Sunday. Sometimes we put good luck charms in our sneakers. And we never, ever, ever say something that might inadvertently jinx our favorite players.
Unless we're John Madden, who passionately declared in an interview with the Detroit Free Press yesterday that the infamous "Madden Curse" does not actually exist, despite the fact that almost every athlete featured on the cover of EA's popular games has suffered some sort of injury, contract issue, or catastrophic meltdown.
Oh, and he cast an evil spell on Detroit Lions wide receiver Calvin Johnson.
"If there was such a thing (as a curse), you couldn't ask for a better man to prove that wrong than who we've got this year," Madden said about Johnson, who will be on the cover of Madden 13 when it comes out later this month.
"He might be as close to indestructible as we've ever had on the cover. Maybe I shouldn't say that... that might… I'm not going to talk about that any more."
Oops. Sorry, Lions fans.
Drew Sharp: John Madden stops by Lions camp to talk video-game curse, Megatron and more [Detroit Free Press via The Verge]