In Japan, your typical conveyor belt sushi restaurants keep a slow and steady flow of food flowing. This is not your typical conveyor belt sushi restaurant.
This is Uobei. Like many other sushi chains, it's not so expensive—one plate of sushi is 105 yen (around $1). And according to online reviews, the sushi is pretty much what you expect for this kind of place: not amazing or great, but serviceable. The food is not what makes the chain's Shibuya branch unique.
There are some differences. For example, the Shibuya branch only has counter seats. This is unusual because at most sushi chain restaurants, there are counter seats and booths.
G/O Media may get a commission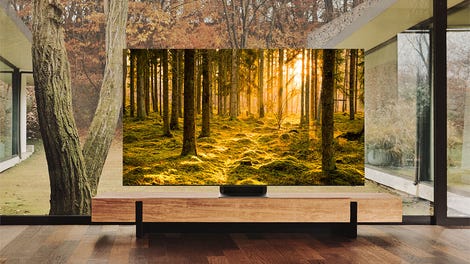 Up to 40% off
Samsung Smart TVs
Another difference is that each seat is outfitted with an Android-powered tablet that allows customers to order. Touch panels are fairly common, but Android-powered tablets are not. The inside of the restaurant looks kind of like an internet cafe! What's more, their touch panel menu also has language options for English, Korean, and Chinese, as well as Japanese, of course. Many sushi chains do not.
The real draw is the "high-speed" rails that send sushi hurtling towards you at a breakneck pace. See, the Uobei Shibuya branch doesn't have any slowly rotating conveyor belts. Instead, there are three stacked rails that send trays able to hold three plates of sushi. After you get your food, you press a button to send the empty tray rocketing back to the kitchen.
According to Japanese site IT Media, only a minute after ordering, it took about 8 seconds to travel roughly 23 feet. That's not fast for, I dunno, a Ferrari, but that's pretty quick for sushi! Uobei boasts that its "high-speed" system is an industry-first in Japan.
If you are in Tokyo and interested in visiting the Shibuya branch, it's located behind Shibuya 109 in Dogenzaka.
魚べい渋谷道玄坂店DS [GenkiSushiGroup@YouTube]
お寿司が高速で直進する「回らない回転寿司」が想像以上に近未来だった [IT Media]
To contact the author of this post, write to bashcraftATkotaku.com or find him on Twitter @Brian_Ashcraft.
Kotaku East is your slice of Asian internet culture, bringing you the latest talking points from Japan, Korea, China and beyond. Tune in every morning from 4am to 8am.