With Japan celebrating Golden Week, there wasn't much activity in the country in terms of new releases. In fact, in the list of top twenty bestselling games in Japan, there was nothing new represented. But we soldier on!
According to sales tracker Media Create, Square Enix's Dragon Quest Monsters Joker 2 Professional topped the charts once again in Japan. Its closest competitor was portable rhythm action game Patapon 3 for the PSP. And pretty everything else on this list qualifies as "evergreen." You got your Pokemons, your Nintendogs, your Monster Hunters... they're all here!
Read on for the bestselling games in Japan for the week of May 2 to 8, a list full of familiar faces. Then stick around for the hardware chart!
01. Dragon Quest Monsters Joker 2 Professional (DS) - 43,886 / 454,781
02. Patapon 3 (PSP) - 21,546 / 70,924
03. Pro Yakyuu Spirits 2011 (PSP) - 20,090 / 141,869
04. Saigo no Yakusoku no Monogatari (PSP) - 18,185 / 78,621
05. Dai-2-Ji Super Robot Taisen Z Hakai-hen (PSP) - 13,670 / 392,674
06. Pro Yakyuu Spirits 2011 (PS3) - 12,754 / 140,478
07. Wii Party (Wii) - 12,433 / 1,881,598
08. Pokemon Black / White (DS) - 9,868 / 5,172,829
09. nintendogs + cats (3DS) - 9,643 / 213,838
10. Mario Kart Wii (Wii) - 9,298 / 3,221,200
11. Monster Hunter Portable 3rd (PSP)
12. Donkey Kong Country Returns (Wii)
13. El-Shaddai: Ascension of the Metatron (PS3)
14. Pilotwings Resort (3DS)
15. Battle & Get! Pokemon Typing DS (DS)
16. New Super Mario Bros. Wii (Wii)
17. Wii Sports Resort (Wii)
18. Final Fantasy IV Complete Collection (PSP)
19. Detective Conan: Aoki Houseki no Rinbukyoku (DS)
20. Earth Defense Force Portable 2 (PSP)
G/O Media may get a commission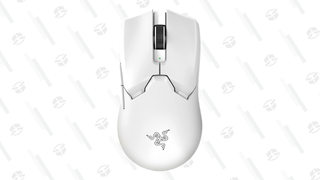 15% Off
Razer Viper V2 HyperSpeed Wireless Gaming Mouse
Pro gaming
ses a focus pro 30k optical sensor for unreal accuracy, is only 59g which puts little-to-no pressure on your wrists and allows for faster response times and longer sessions, has switches that last for 90 million clicks, has an absurdly fast wireless connection, and a battery life of up to 80 hours.
The hardware contest was once again won by the PlayStation Portable, which is still enjoying healthy sales overseas. Sony's PSP came close to doubling 3DS sales for the week. On the console front was a similar story, with the PS3 selling nearly twice what the Wii sold in Japan.
The Nintendo DS is still holding on, moving nearly 20,000 new units last week.
PSP - 54,882
Nintendo 3DS - 29,149
PlayStation 3 - 20,883
Wii - 11,520
Nintendo DSi LL - 10,519
Nintendo DSi - 8,708
Xbox 360 - 3,419
PlayStation 2 - 1,696
Nintendo DS Lite - 289
PSP go - 258