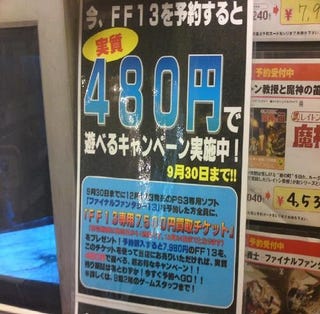 This December, Final Fantasy XIII will hit Japan on the PS3. The release date is December 17 — so how long would players need to finish the game? A week?
Those who can barrel through the title on the quick might want to pre-order the ¥7,980 (US$88.88) title through retailer TSUTAYA by September 30. That's today! Those who do will get a ¥7,500 buy-back ticket that must be redeemed by December 24. That means, players can "rent" Final Fantasy XIII for the low equivalent price of $5.35.
While game rental is common abroad, it is not in Japan due to regulations and restrictions. (Oddly, music CDs are rented throughout the country.) If you ever wonder why used Japanese-owned video games are in such good shape, the reason is that many players buy a title, beat it and sell it back to retail.
This campaign is up front about its intention and aims to ensure a steady supply of used FFXIII copies.