Wii Music didn't become the breakout hit Nintendo was hoping for. It was a sales disappointment of sorts. Nintendo President Satoru Iwata thinks the software elicits one of two reactions.
Nintendo Co., Ltd. just released a Q&A that was held during last week's Nintendo Third Quarter Financial Results Briefing in Tokyo, where president Iwata conceded: "I agree that Wii Music, as of now, has not achieved its true potential. On the other hand, I feel that Wii Music is a software that elicits largely two extremely different reaction from consumers. There are people who highly appreciate it and those who do not appreciate it at all."
Continuing, Iwata points out that the typical reaction towards a game is that lots of people enjoy a game and the buzz towards that game becomes positive — or vice versa. "For Wii Music, the impression seems to completely depend on each individual player," said Iwata. "It is unfortunate that Wii Music was not immediately appealing enough to some consumers, but it simply might have not been the right game for them."
That's not to say Nintendo has given up on the title. Iwata points out that when Brain Age originally launched in Japan, the game didn't become a hit until Brain Age 2 went on sale.
"We do not like to think that we failed with Wii Music nor that we should abandon sales support," sai Iwata. "If we had approached Brain Age with that mentality, the software would have not achieved the current sales situation."
G/O Media may get a commission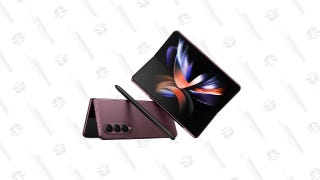 Save Up to $300
Galaxy Z Fold4
Wii Music was launched along with Animal Crossing: City Folk at the end of 2008 in hopes of appealing to Japanese consumers and "revitalize the Wii market in Japan." Continuing, Iwata said, "Our efforts have not lived up to our expectation. While Wii had very strong momentum in the overseas markets, the Wii market in Japan (during the year-end sales season) showed a slow start, did not show sharp trajectory in sales, and ended up moving back to the sales level of non-sales-season level quickly."
In short: "So, what happened at the end of last year in Japan was simply that it did not go as we had planned."
Iwata is very quick to point out that the sales figures for both Wii Music and Animal Crossing: City Folk are "nowhere near that of failing software." Nintendo has extremely high sales expectations for its titles — these games did not meet those sales expectations. "To generate strong sales," Iwata added, "we need to effectively communicate Nintendo's messages to our consumers."