Last week, the latest entry in Sega's popular Yakuza series hit Japan after suffering a brief delay. It was the country's bestselling game by a huge margin, killing the other new zombie-filled game on the market. But there was some not so good news for Sega's newest gangster game.
Yakuza: Of the End crushed the competition, selling nearly 300,000 copies in its first week on the market in Japan. Damn good, but not as impressive as the last two entries on the PlayStation 3. Yakuza 3 managed to move 372,000 copies in its first week on sale two years ago. Yakuza 4 outperformed that with a debut tally of 384,000 copies last year.
Yakuza: Of the End did less business with a larger PS3 install base, either telling us that Japanese gamers are experiencing annual Yakuza fatigue or they just don't like the introduction of undead in their gangster brawler-dramas.
Whatever Yakuza's fate, here are the top 20 bestselling games in Japan, courtesy of Media Create. It includes two Evangelion games and one Red Faction game, which managed to break its way into the top ten.
G/O Media may get a commission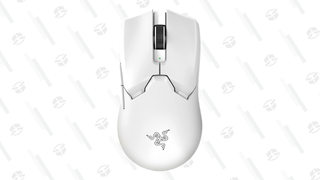 15% Off
Razer Viper V2 HyperSpeed Wireless Gaming Mouse
Pro gaming
ses a focus pro 30k optical sensor for unreal accuracy, is only 59g which puts little-to-no pressure on your wrists and allows for faster response times and longer sessions, has switches that last for 90 million clicks, has an absurdly fast wireless connection, and a battery life of up to 80 hours.
01. Yakuza: Of the End (PS3) - 298,717 / NEW
02. Resident Evil: The Mercenaries 3D (3DS) - 15,551 / 74,343
03. Battle & Get! Pokemon Typing DS (DS) - 11,421 / 130,812
04. Dragon Quest Monsters Joker 2: Professional (DS) - 10,526 / 530,022
05. One Piece Unlimited Cruise SP (3DS) - 8,384 / 105,625
06. Gekiatsu!! Pachi Game Tamashi Vol. 2: CR Evangelion - Shinjitsu no Tsubasa (PSP) - 6,808 / NEW
07. Wii Party (Wii) - 6,243 / 1,911,195
08. Akiba's Trip (PSP) - 5,523 / 89,477
09. Red Faction: Armageddon (PS3) - 5,426 / NEW
10. Patapon 3 (PSP)
11. Pro Yakyuu Spirits 2011 (PSP)
12. Pokemon Black / White (DS)
13. Troy Musou (PS3)
14. Wii Sports Resort (Wii)
15. Nobunaga no Yabou: Tendou with Power-Up Kit (PS3)
16. Mario Kart Wii (Wii)
17. Pandora's Tower (Wii)
18. Wii Fit Plus (Wii)
19. Monster Hunter Portable 3rd (PSP)
20. Gekiatsu!! Pachi Game Tamashi Vol. 2: CR Evangelion - Shinjitsu no Tsubasa (PS3)
On the hardware side of Japan's video game market, the PSP continues to enjoy its first place prominence, a perch that looks more than ever to be threatened by the Nintendo 3DS. Sales of Resident Evil: The Mercenaries 3D are probably helping. We'll see what effect the re-release of The Legend of Zelda: Ocarina of Time does for the 3DS next week.
PSP - 26,681
Nintendo 3DS - 24,649
PlayStation 3 - 17,104
Wii - 6,357
Nintendo DSi LL - 5,283
Nintendo DSi - 5,232
Xbox 360 - 2,370
PlayStation 2 - 1,291
Nintendo DS Lite - 146
PSP go - 69