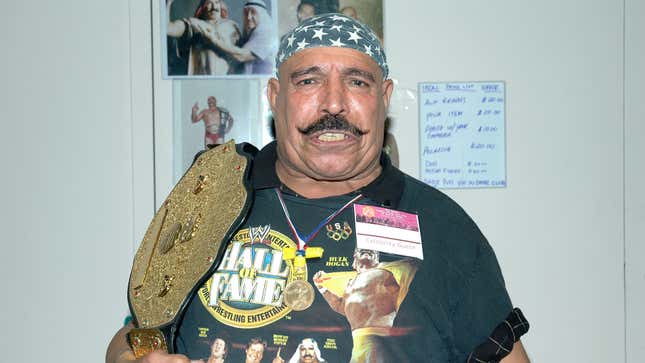 Iron Sheik, an iconic WWE Hall of Fame wrestler, has passed away at the age of 81.
We Taste-Tested The Super Mario Bros. Movie Hot Sauces
The news of Sheik's passing was announced Wednesday morning on his official Twitter and Facebook pages.

"The Iron Sheik, (whose real name was Hossein Khosrow Ali Vaziri), transcended the realm of sports entertainment," the statement shared on his official Twitter account said. "With his larger-than-life persona, incredible charisma, and unparalleled in-ring skills, he captivated audiences around the globe. He was a trailblazer, breaking barriers and paving the way for a diverse range of wrestlers who followed in his footsteps."
Following the announcement of Sheik's passing, WWE released a statement saying:

"With his imposing physique, curled boots and dreaded Camel Cutch finishing hold, The Iron Sheik's larger-than-life personality and natural gift for inciting crowds across the globe helped him become one of the greatest villains in sports-entertainment history. Yet, over time that awe-inspiring showmanship not only earned the respect of his peers, but the WWE Universe as a whole, making him a beloved figure. The Iron Sheik first excelled in the world of Greco-Roman Wrestling, competing in the Amateur Athletic Union and becoming a gold medalist at 180.5 pounds in 1971."
Sheik first joined the WWE (known then as WWF) back in 1979. Over the course of his 30-year career, Sheik became the WWF World Heavyweight Champion in 1983, as well as a WWF Tag Team Champion with fellow old-school heel wrestler Nikolai Volkoff. Sheik famously lost his World Heavyweight Championship to Hulk Hogan four weeks later. Iron Sheik made his first appearance in WWE video games in WWE SmackDown! Here Comes The Pain for the PlayStation 2.

Outside of wrestling, Sheik was known for making bizarre wrestling promo-esque tweets admonishing the concept of Mondays, clowning on McDonald's as a fast food establishment, or, his favorite topic, reminding folks that fellow WWE Hall of Famer Hulk Hogan was no "brother" of his. Sheik's Twitter account, which amassed a total of 600,000 followers, was long rumored to not actually be run by the retired wrestler but by his agents, the Magen Brothers. It's still real to me though, dammit.