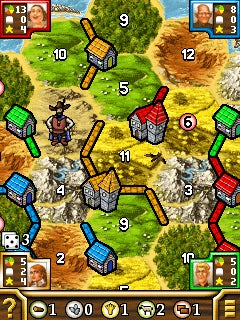 The iPhone version of famously fun table top game Catan has been submitted to Apple for approval, the developers tell us.
Catan - The First Island will be available soon for both the iPhone and iPod Touch, they say, though know word yet on pricing.
The iPhone version of the game will support up to four players with a "hot-seat multiplayer mode." The game will also have an assortment of iPhone-controlled Catanians with a variety of strategies to play against.
As much as I'm looking forward to this game, I am a little bummed that it sounds like there won't be any online support.
What is this firmware 1.0? The iPhone supports plenty of online capabilities these days, from chatting and downloadable add-on content to mulitplayer gaming.
Let's hope they'll be adding that functionality with an update.
As we roll toward the holidays and the number of big-name, high-value iPhone and iPod Touch games sky rockets, we'd love to know which games you're looking for reviews of.
There's now way we'll be able to review every big iPhone game hitting, so we'll do our best to try and hit the ones you all suggest. So suggest away.