Chased or be chased! I go hands-on with perhaps the best looking 3D game for the iPhone to date!
These Great Fortnite Creative Maps Show Us What's Possible
No doubt about it. EA is pushing Need for Speed Undercover (NFSU) as their flagship mobile game this holiday. I believe the PR rep even spouted some hyperbole, calling it the "best action series of all time" or something. Anyway, the demo I played only had one track and handful of selectable speedsters to choose from.
Like most driving games on the iPhone, players have to use the accelerometer steering. You'll be winding your way around tight turns by tilting the phone left or right. How does it work? I know motion controls can be highly subjective depending on who's playing. As someone who doesn't particularly like motion controls (especially for movement) I will say it at least works. There were times, however, when I felt like I didn't have any control over the car, especially after crashing.
Also, there's no gas or break. You're always gassin' it. The game compensates by how well you do on turns. The better lined up you are on the "turning arch"; the appropriate gas or brake is automatically applied, thus saving you from crashing into the wall or railing. You also have the option of using nitro boost, to speed up, or this "bullet-time" function to slow you down while making tough turns.
G/O Media may get a commission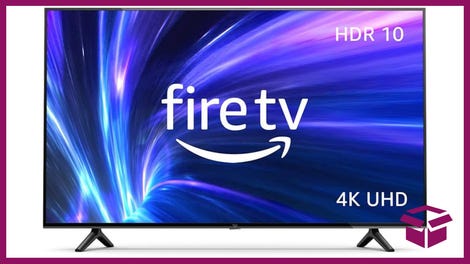 42% Off
Amazon Fire TV 50" 4K Smart TV
Graphically, the game is top notch. There are fully rendered 3D modeled cars, and the racetrack has layers of detail, all while keeping a steady framerate and minimal loading. There will be 30 cars overall to choose from all with customizable features, such as adding new rims, body paint, suspension, etc.
NFSU might not be bringing anything new to the table in terms of actual gameplay, but graphically, it's head and shoulders above the rest. I would have liked to see more cars, tracks, and modes so I could dig into it a bit more, though. This is going to be one of the more expensive iPhone games, so expect a price somewhere between $7 and $10 with a release sometime this month.