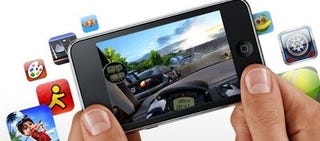 I've beaten Street Fighter IV three times already, and loved everyone of the nine minutes it took me to do so each time.
No wonder it's at the top spot. Now about that lack of online multiplayer...
Here's the full list:
Which do you think should be the top game?
Check out all of our iPhone game reviews.
| Position | Title | Price | Weeks | Last Week |
| --- | --- | --- | --- | --- |
| 1 | Street Fighter IV (Capcom) | $9.99 | 1 | — |
| 2 | Where's Waldo? The Fantastic Journey (Ludia) | $.99 | 1 | — |
| 3 | Monopoly (EA) | $4.99 | 12 | 1 |
| 4 | Call of Duty: World at War Zombies (Activision) | $9.99 | 4 | 2 |
| 5 | Bejeweled 2 (PopCap Games) | $2.99 | 27 | 7 |
| 6 | Final Fantasy (Square Enix) | $8.99 | 3 | 3 |
| 7 | Plants Vs. Zombies (PopCap Games) | $2.99 | 12 | 6 |
| 8 | Rock Band (EA) | $6.99 | 11 | 9 |
| 9 | All-In-1 Gamebox (Triniti Interactive Limited) | $.99 | 6 | 5 |
| 10 | Tetris (EA) | $4.99 | 1 | — |