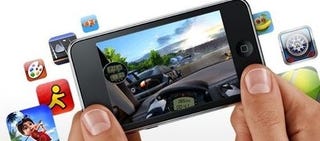 Grand Theft Auto: Chinatown Wars slammed onto the list this week in the number one spot.
Rock Band managed to pop back on the list at number two, thanks in large part to the lite version that hit last week, I suspect. Fingers crossed for those new song packs that Harmonix promised me.
Here's the full list:
Which do you think should be the top game?
Check out all of our iPhone game reviews.
| Position | Title | Price | Weeks | Last Week |
| --- | --- | --- | --- | --- |
| 1 | Grand Theft Auto: Chinatown Wars (Rockstar Games) | $9.99 | 1 | - |
| 2 | Rock Band (EA) | $6.99 | 1 | - |
| 3 | Call of Duty: World at War Zombies (Activision) | $9.99 | 4 | 1 |
| 4 | Bejeweled 2 (PopCap Games) | $2.99 | 21 | 3 |
| 5 | The Sims 3 (EA) | $6.99 | 20 | 2 |
| 6 | Doodle Jump (Lima Sky) | $.99 | 2 | 5 |
| 7 | Tetris (EA) | $4.99 | 20 | 7 |
| 8 | The Game of Life (EA) | $2.99 | 3 | 6 |
| 9 | Madden NFL 10 (EA) | $6.99 | 3 | 4 |
| 10 | Scrabble (EA) | $4.99 | 1 | - |