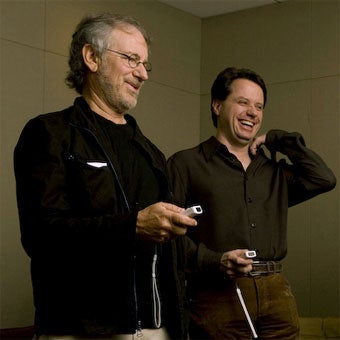 Browser-based games company InstantAction, responsible for the web-based Tribes and Fallen Empire: Legions, has a new CEO in Westwood Studios founder Louis "Lou" Castle. That's Lou, pictured to the right of Steven Spielberg playing Boom Blox, by the way.
IndustryGamers reports today that Castle has moved on from Electronics Arts to run InstantAction, relocating the company to two new destinations, Portland and Las Vegas. Castle previously lead EA's Blueprint division, after EA vet Neil Young quit, but before the company nixed the studio.
Castle has the experience, having helped launched the Command & Conquer series and Boom Blox for EA, so we'd consider this a good get for InstantAction.
Lou Castle to Head Up InstantAction as New CEO [IndustryGamers]