The self-conscious games reporter does not rap in public. He raps at home, with a preview build of Def Jam Rapstar, video-camera activated. But then, though he might regret it later, he shares the videos with you.
During my vacation last week I agreed to test whether my enjoyment of rap music and my enjoyment of video games could make me an ideal player of Def Jam Rapstar. As you can see from the clips below, I was lacking just one tiny thing: a half-decent flow.
Def Jam Rapstar is an October-scheduled rap karaoke game that lets you rap along to hip-hop classics from most of rap's major eras. In party mode, you can rap to everything from 50 Cent to A Tribe Called Quest. I used a Rock Band mic for this, hooked up to an Xbox 360. I then attached a camera, so I could record my efforts.
Rapstar, as rap itself seems to do, encourages vanity. You can capture your full performance, rapping along to a favorite song, then extract 30 seconds of that, manipulate the clip and, once the game is live, upload it to a social networking site.
G/O Media may get a commission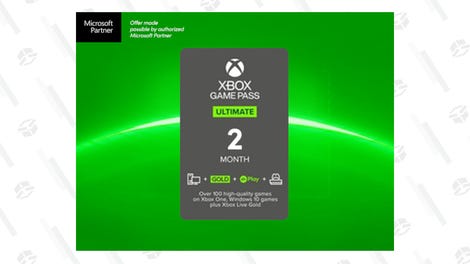 70% Off
Xbox Game Pass Ultimate Two-Month Subscription
Here's a 30-second chunk of me rapping to an old favorite, A Tribe Called Quest's The Scenario
Tribe's rapping is pretty good, but thanks to Rapstar's easy audio-editing, I can quiet them and boost my own vocals.
Terrifically bad!
Because I was playing on easy, the game had given me this commendation:
But listen to me. I wasn't that good. In fact, I decided I need some help. So I applied an eagle sticker, added some reverb and night vision, tossed in some animations. All of this took about five minutes, thanks to Def Jam Rapstar's intuitive editing options. I figured out that as I played deeper into the game's career mode, I could unlock new effects. Having barely cleared chapter one of the game, I was able to offer up this video hit:
As I said above, Rapstar encourages rapper vanity. Thus, I decided I needed to do better. How could I do worse?
I tried Snoop Dogg and Dr. Dre's Nuthin' But A G Thang
This is what it is supposed to sound like:
This is what I did to it:
Obviously I ran into a few issues here. Not only can I not rap well, but camera placement wasn't so hot and my line of sight was compromised by needing to read the lyrics. Also, maybe I should put a few more minutes into adding eagles and hats?
I enjoyed the video editing part of Rapstar. In my hands, it's a tool for absurdity. I won't be creating any posturing, macho rap videos with this game. But I could easily generate more ridiculous ones.
I spent more time with the career mode in the game. Career mode is simple and has less narrative than a Rock Band storyline. What you get is a batch of songs, spanning the eras of rap, and a requirement to collectively rap well enough to unlock the next tier. In the first tier, for example, I was able to get by by butchering Ice Cube's It Was A Good Day for one mic, did embarrassingly well at Salt 'N Pepa's Push It for four more, did pretty well at some Run DMC and Soulja Boy and so on. I was so-so with Jim Jones. Eventually I had enough mics to advance to the next batch of songs.
I'd play more of the career mode. The karaoke presentation, which includes clean edits and official music videos, helps me finally figure out what all the words are to songs I've heard thousands of times. After you rap, a display of the lyrics shows which words you missed. I didn't even know some of those words were in there!
There has yet to be a breakout hip-hop music game. I don't see why this couldn't be it. Unless you don't want to risk looking like a fool. For me, I'm over that hurdle.
Def Jam Rapstar is set for release on the Xbox 360, PlayStation 3 and Wii on October 5. The 360 and PS3 support the video effects seen here using the systems' Vision and Eye cameras, respectively.
Readers, be glad I didn't share a clip of me rapping to Salt 'N Pepa's Push It.