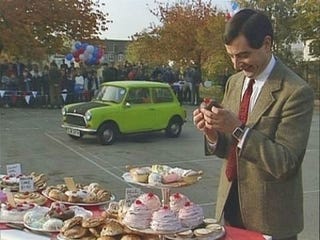 To: Crecente
From: Bashcraft
RE: One, Two, Three
Tomorrow, Mini-Bash are going to go to the video store (remember those?) to rent a movie. He said he wanted to see a Mr. Bean video. (Kid loves Mr. Bean and has been calling his younger brother "Teddy" for the past week or so.)
Mini-Bash really likes Mr. Bean's Mini Cooper and keeps asking if it goes as fast as a GT-R or a Porsche. No, I say. But it goes fast, right? he asks.
He's seen all the Mr. Bean videos at the video store. Besides the movies, there is a three volume set of the stuff that was on UK television. He has seen all of them. Several times. Recently, he watched them starting from Vol.1 again. He hasn't rented Vol.3 again yet. But he said to me today:
*SPOILER*
I don't want to see the part where the tank smushes the Mini Cooper. Can you fast forward that part?
*SPOILER*
Sure, I said.
What you missed last night
Gears Of War 3, Coming April 2011
What's With The Nuns, Japan?
Metal Gear Solid: Peace Walker Product Placement Explained!
New Pokémon Games Revealed: Pokémon Black & Pokémon White
What, Exactly, Is DRM?