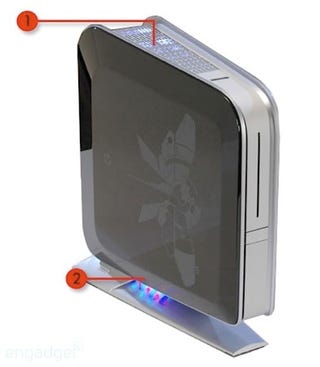 The HP Blackbird 02 was as beautiful as it was big, but the Voodoo-designed gaming computer's price tag was the ultimate turn off for most gamers. But what about cheaper and smaller?
Leaked specs for the diminutive HP Firebird 803, also a Voodoo-esque gaming rig, could be just the thing to attract hardcore gamers, though that video card leaves a bit to be desired.
NVIDIA nForce 760i SLI chipset
Core 2 Quad Q9550 2.83GHz processor
4GB of RAM
Dual NVIDIA GeForce 9800S cards
Two 320GB SATA drives
Blu-ray
5-in-1 card reader
6 USB, 1 FireWire, 2 eSATA, 1 S/PDIF and 1 DVI dual-link
Bluetooth
802.11n WiFi
The desktop will come with a wireless keyboard and mouse as well as an external power supply. Sounds like it's got potential, but the price could be the deal breaker for me.
HP Firebird 803 tower with VoodooDNA leaked! [Engadget]