This is from 2006. Eons ago. Just look at that outfit! Shorts, a tutu and make-up from 1985? I...don't geddit. It's now 2010, and we are living in the future. Technology is more advanced. Plastic mechas have improved. Posing, too.
Priced at ¥350,000 (US$3,700), this 35 kilogram, 1.5 meter high "Hyper Hyrbid" HY2M RX-78-2 Gundam was released in late 2006 — girl not included.
This September, another "Hyper Hybrid" RX-78-2 Gundam will be released to mark the 30th anniversary of Gundam plastic models. It is 1.5 meters high and weights 35 kilograms. Hey, wait a minute!
G/O Media may get a commission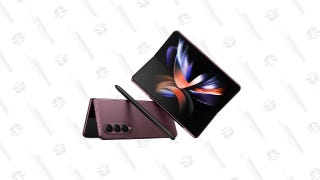 Save Up to $300
Galaxy Z Fold4
THIS IS THE SAME THING.
Only the girl is different! Her outfit is different, too. Oh, there Gundam itself has a slightly more detailed paint/sticker job and a sticker that denotes the 30th anniversary of Gundam models.
The official press release notes that, yes, this figure initially went on sale in 2006 and since then 1,500 of them have been sold. Over one thousand! Think about it!
This time around the large Gundam goes on sale for ¥315,000 ($3,400). It's good to know that in the last few years, figure maker Bandai has figured out how to sell large Gundams at a lower price. Progress, folks, progress.
Buy A 5-Foot Tall Gundam For $3,400 [Gizmodo] [Pic]