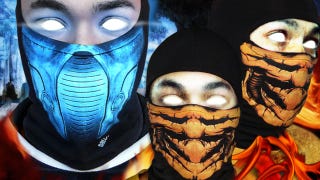 Balaclava company Ballys is coming out with a line of Mortal Kombat-inspired winter weather gear for your noggin, letting you beat the cold and look like Scorpion (or Sub Zero) while you're doing it.
While being "100% unofficial", yeah, you can tell who they are. They're $20, and you can get them from Ballys' online store, which also sells replica balaclavas based on Modern Warfare's Ghost.
Ever think the name was silly? It's actually loaded with history. Under-equipped British troops fighting in the Crimean War in the 19th century were freezing their arses off, so the folks back home knitted various items of clothing for them. One of those items was a rather unique piece of knitted headgear which was named for the town of Balaclava, a key location in the war.