When I've got a game to review, you'll often find me in my tiny studio apartment, sprawled out on my bed with controller in hand and laptop to my side for note-taking. I'll take breaks here and there to flesh out thoughts or grab some food.
The most recent game I reviewed was Halo 4. I didn't play it in my tiny apartment. I played it on the 24th floor of a meeting room in one of NYC's conference centers where Microsoft was hosting a review event for two long days. It was there in the dimly-lit, curtain-drawn room full of TVs, consoles and comfy white chairs that I'd play Halo 4 to write you the review that went up early this morning.
After charging our batteries with a breakfast of bagels and fruit provided by Microsoft, my fellow media reviewers/reporters and I sat down at a preferred seat in front of the blue glow of Halo 4's menu screen. I spotted Spike TV's Geoff Keighley across me, two Major League Gaming representatives to my left, and later found out one of the writers to my right was from Maxim magazine. It seemed to be a fairly "mainstream" media crowd, myself-the video game enthusiast writer-excluded.
I'd come to the review event with a friend who used to be a writer of mine back when I ran Complex magazine's video game channel. He still works there. The first question we had was, "How do we set up to play the campaign cooperatively?" We're both huge Halo fans, and wanted to tear through the Covenant and Prometheans together, at least for a while before jumping back into single player. The representative from Edelman-the company that handles Microsoft's public relations-was at a loss for words for a second. He wasn't sure if we actually could play co-op. He ran to get Halo 4's head honcho, Frank O'Connor.
O'Connor explained that he didn't want to tell us how to play the game for review, but he suggested the best possible way to play was single player. He didn't want either of us to feel like the "little brother" and, after all, there can only be one Master Chief.
G/O Media may get a commission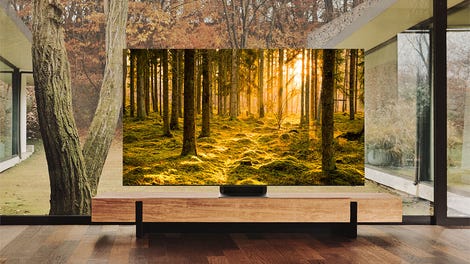 Up to 40% off
Samsung Smart TVs
My writer friend and I exchanged glances. We knew we were going to play co-op regardless, so long as the review builds we were playing had the technical power to allow us to do so. Though it was slightly uncomfortable to be told how we should play, it didn't impede our review or game process. It was a momentary "wait, really?" moment followed by the trigger-happy, cooperative adventures through Halo 4's campaign that we wanted. So after a few hours of experiencing the game at our own paces, we jumped into co-op play on Heroic.
Bungie has always emphasized the Heroic difficulty for their Halo titles. But 343 suggested we take the route of Normal, only offering Heroic when faced with our insistence to play cooperatively. Heroic was a must, we had already decided.
Complex's writer and yours truly breezed our way through enemies on the Heroic, cooperative campaign. We're both Halo veterans and even considered switching to Legendary, but decided that that would be saved for our inevitable second playthrough after receiving retail copies of the game.
I had never been to a review event before. Some outlets outright do not let their writers attend them for review coverage. Others take advantage of the extra time allotted by attending them, since they take place usually a healthy amount of time before retail copies are sent out. At Kotaku, we are invited to review events a lot. No joke: we were invited to go to Disneyland to review Epic Mickey 2. We turned Disney down. It seemed like a bit much, to say the least. Plus, we definitely won't do them if they involve travel (we're not paying; and we're not letting them pay).
But a Halo review event in NY where half of us are based? We could live with that, figuring it was an easy way to play the game, guarantee that we could play multiplayer against other people that weren't all just developers and have a review ready to go. The joke was on us when retail copies showed up in the mail a few days later. Oh well.
Going in to my first review event, I was slightly suspicious. Would PR be hovering over my shoulder the entire time? Would they hurry over to explain parts of the game or point me in the "right" direction?
Most of my worries were abated immediately. The PR representatives only came into the room to announce that they'd set up a few lunch boxes for us if we were hungry. They'd then quickly go back into the brighter halls of the floor to carry on with their own work. We'd take breaks and they'd ask us how we were enjoying ourselves.
On the first day, my writer friend and I had wiped the campaign clean. We polished off the Spartan Ops missions, too, and jumped into some multiplayer War Games. The room was not as full as we'd anticipated, but of the writers there most had yet to finish the campaign just yet. So we played multiplayer mainly with a bunch of 343's developers, so you can imagine the difficulty curve was a bit weighted. The next day, however, was an all-day War Games day with a balance of both developers and writers.
We hooted and howled at each other as we killed or were killed. LAN parties are the best multiplayer experiences, because you can see and feel people's enthusiasm and emotions while playing side-by-side with them. I giggled and shouted taunts and cursed more than my parents would tolerate. I have yet to sit down with the multiplayer since then, but I imagine it will be an experience my other rounds of multiplayer will have difficulty living up to.
The big question with review events is whether they provide the same experience as you would get simply lounging in the privacy of your own home. Does the free food influence my mood? Will the company's presence and direction put an uncomfortable pressure on the reviewer? I only felt a couple minutes' worth of discomfort at the suggestion against playing the campaign cooperatively. Otherwise my experience didn't feel too different from how it would have been from the comfy seat of my bed. Dim lighting, marathon gaming, and a half-assed effort to keeping nourished in favor of "just five more minutes."