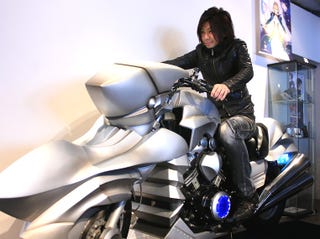 Japanese figure maker Good Smile doesn't only make figures. It's also sponsoring race cars—and showcasing this.
This is a life-sized version of Motored Cuirassier, the motorcycle Fate/stay character Saber rides in the new anime Fate/Zero.
Fate/stay night was originally a 2004 PC visual novel. It has since spun off anime, manga, and other video games, including a Capcom fighting game.
The bike is based off the Yamaha VMax. The plastic figure version is 1/8 scale and was created using 3D data of the Yamaha VMax and then fine-tuned by sculptors.
Good Smile decided to create a life-sized version, which is, likewise, based off the VMax. Since it doesn't have a license plate, the bike isn't street legal. Since it does have a working engine, however, it is possible to fire the puppy up.
The coolest part? If you swing by the Good Smile Cafe in Matsudo City, you can even sit on it.
The bike will be on display until Dec. 21.
「Fate/zero」のセイバーさんの実物大バイクを見てきた [IT Media]