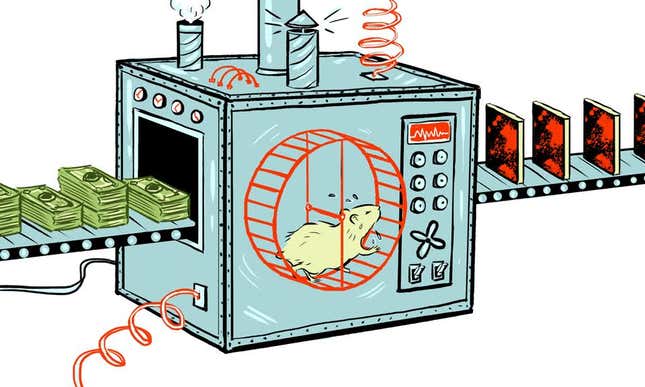 In 2009, publisher Electronic Soft released BloodDeath, a blockbuster video game that won 306 "Best In Show" awards at E3 and went on to sell 3.2 million copies worldwide. In 2015, Electronic Soft released BloodDeath's sequel, BloodDeath: DeathBlood. This is the story of DeathBlood's path from announcement to release, as told through the eyes of the internet.
Why The Hot New Redfall Gameplay Trailer Left Us Feeling Cold
2013
September 2 - After three years of secretive development, including two complete overhauls, the name BloodDeath: Deathblood (swiftly shortened by press and fans alike to DeathBlood, BD2 or even DB) is first revealed to the outside world by accident, appearing on the LinkedIn page of a 3D artist. The artist's account is swiftly deleted.
September 19 - An executive from publisher Electronic Soft mentions an "exciting future" planned for the BloodDeath franchise in an investor's meeting. Some websites report this as "Rumor: BloodDeath Sequel Announced During Fiscal Meeting".
November 4 - A famous voice-over artist enthusiastically tweets about a day's work recording a debut trailer for DeathBlood. The tweet is instantly deleted, but not before it's screencapped and posted on gaming forums, from where it soon makes its way to gaming news websites.
December 10 - An anonymous user on a video game forum posts concept art for DeathBlood, complete with logos and watermarks.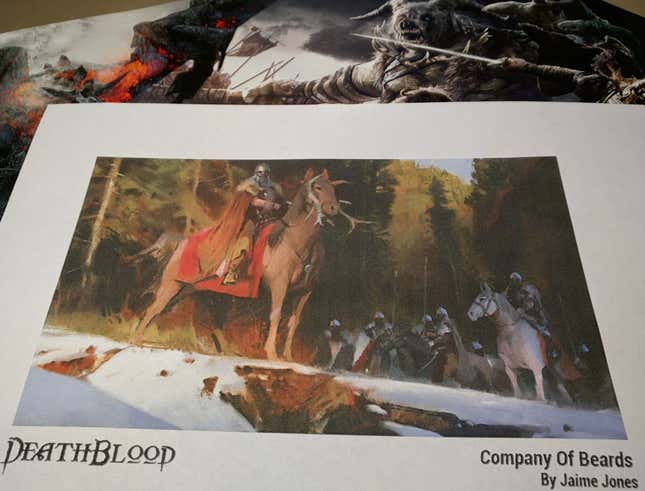 2014
January 27 - The official hype begins. Electronic Soft's corporate blog posts a 0.3 second trailer—brief flashes of an age rating and then a logo, visible only by frantically pausing and watching frame-by-frame. It teases the reveal of a BloodDeath sequel with the slogan "More Blood. More Death." A full reveal is promised on March 1.
February 13 - Screenshots, game details, box art and promotional retail images are leaked to a video game website (see below). These materials confirm the game is called DeathBlood, and give specific plot information, including the addition of a wise-cracking Welsh sidekick named Alan.
---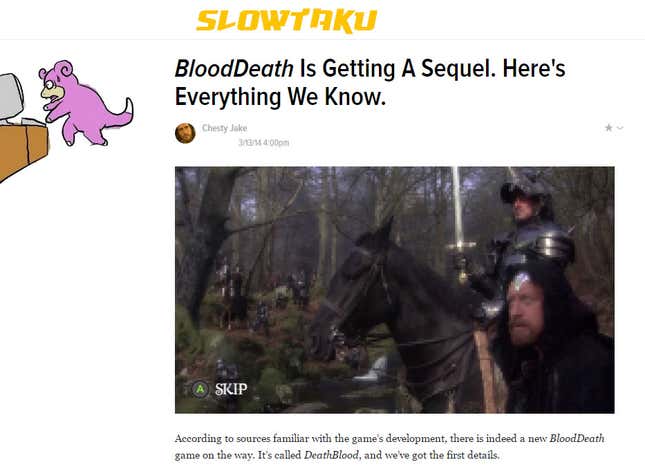 ---
February 15 - Game Snitch magazine, owned by the world's largest video game retailer, teases the cover for their next issue. It's a black banner, with the words "MORE BLOOD MORE DEATH" in giant text.

February 27 - A two-minute cinematic trailer for DeathBlood appears suddenly and accidentally on Electronic Soft Germany's YouTube channel. It is viewed 301+ times, taken down, then ripped and hosted by three video game sites.
March 1 - Electronic Soft officially announces DeathBlood with a two-minute cinematic trailer that shows absolutely no gameplay. Video game sites, having already reported the news of the game on February 13, report it again. Neither DeathBlood's official site or PR representatives from Electronic Soft are able to provide any details about the game.
March 1 - The latest issue of Game Snitch hits newsstands, containing the first officially-sanctioned details about the game. Members of the online press rush to reprint these details in bullet-point form.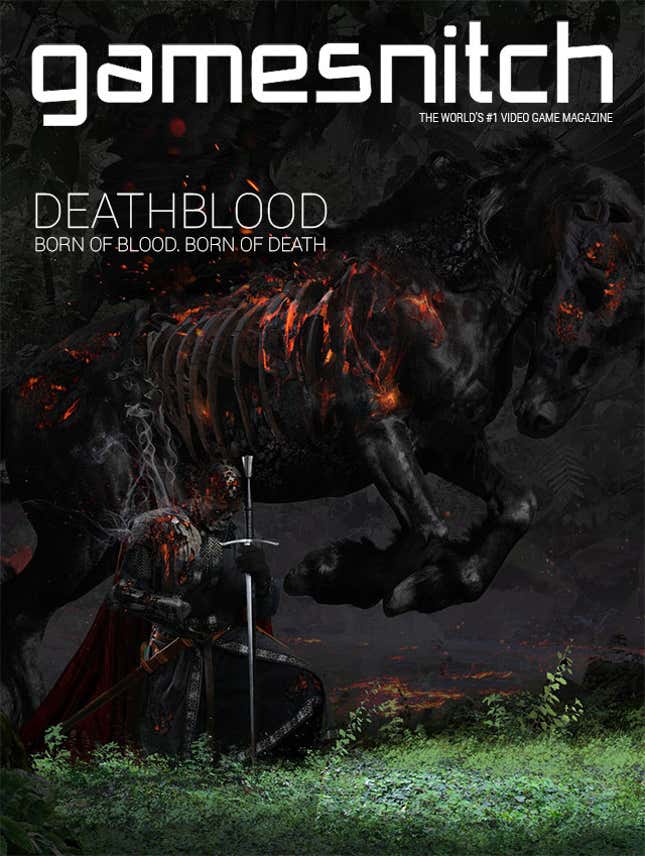 (Original art: Ashes by Brandon Gobey)
March 2 - DeathBlood's retailer-exclusive pre-order incentives are announced. Over 173 skins and 231 weapons are available across the Western world's 25 major retail chains; the only way to obtain them all is to pay USD$1099.95 for the DeathBlood: BORN OF BLOOD AND DEATH edition, which includes all pre-order content, along with a 1:1 scale Baron von Bellend helmet, actual human heart, reversible hoodie, soundtrack disc, broken statue and tiny art book (which contains major plot spoilers).
March 28 - In an interview with a Spanish fan site, the game's director lets slip that the sequel will feature fewer weapons, levels and bosses than BloodDeath. The interview is hastily—and poorly—translated by video game forum-posters, after which it makes its way to video game news websites. Fans are outraged.
March 29 - Electronic Soft representatives issue a statement denying the news, and claim the "confusion" was the result of a "mistranslation." (The game will eventually release with fewer weapons, levels and bosses than BloodDeath.)
May 28 - Electronic Soft posts a short six-second trailer for DeathBlood on their official site, teasing a longer teaser trailer that will tease the game's actual E3 trailer.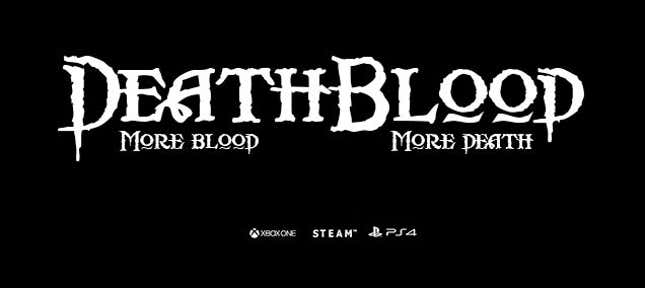 June 4 - The longer teaser trailer—at 11 seconds—is released. Video game news sites post frame-by-frame breakdowns of a trailer that shows nothing except a black screen, the game's logo and an ominous voice-over.
June 13 - A carefully-staged "vertical slice" of DeathBlood is secretly played by video game journalists at the E3 Judge's Week, an annual, invitation-only event. Their impressions are embargoed until July 1.
June 16 - DeathBlood takes centre stage at Microsoft's E3 press conference. A six-minute cinematic trailer is shown, followed by a lengthy demonstration of live gameplay. It is also mentioned at Sony's press conference, but only in passing, as part of a montage set to loud dubstep.
June 16 - DeathBlood's release date is announced via press release: October 16, 2014.
June 17 - Electronic Soft and Microsoft announce that they have signed an exclusivity deal where DeathBlood's DLC and expansions will be released first on Xbox One. Requests by press for clarification on a timeline for PS4 DLC go unanswered. (The PS4 will eventually see half the DLC months later, and the other half won't show up at all.)
June 18 - DeathBlood has an enormous booth on the E3 showroom floor, built inside a cavernous replica of a demon's skull. The only thing inside this booth are screens replaying cinematic trailers. No gameplay footage is shown, and DeathBlood is not playable by a single E3 attendee.
June 19 - DeathBlood wins over 400 "Best of E3" awards.
---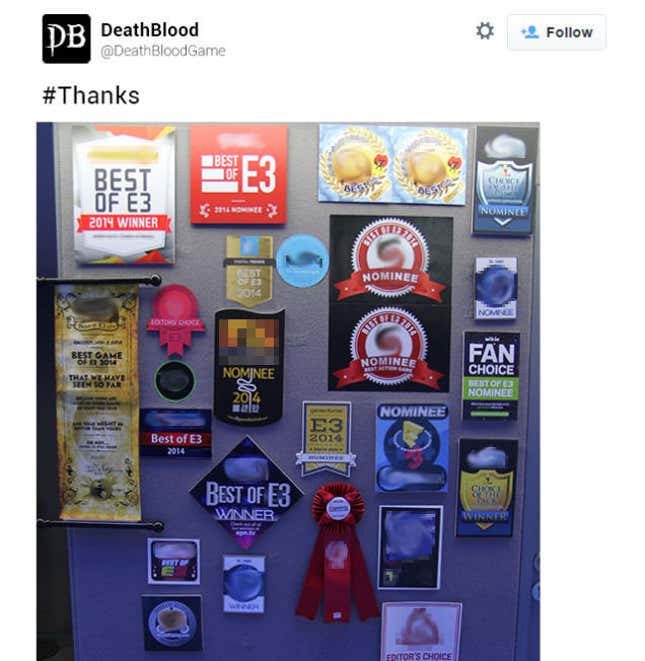 ---
July 1 - Major video game websites post their first impressions of DeathBlood, based on their time with a single level that won't end up in the final game. Most are mildly enthusiastic. Some are critical of the game's lack of positive female characters. One journalist's impressions are cautiously negative, leading to calls for their sacking from enraged fans.

July 17 - Honour's Creed, the biggest video game series on Earth (and a product of rival publisher ActiveWare), announces its release date of October 14, 2014.
July 18 - DeathBlood is delayed until February 11, 2015.
August 13 - At GamesCom, DeathBlood's producer is asked about the PC version of the game. He is unable to comment.
August 18 - DeathBlood's PC version is delayed until April 7, 2015.
September 13 - Select video game press and YouTube personalities are invited to a lavish hotel in Los Angeles, where they spend three days playing DeathBlood's multiplayer under tightly-controlled circumstances. Their impressions, part of a major round of preview coverage for the game, are embargoed until October 13.
October 13 - The hype is building. Every major video game site on Earth simultaneously publishes their previews. Almost every preview is vaguely positive. One site's preview is slightly negative, leading to calls for the writer's sacking from enraged fans.
December 13 - The Australian Classification Board announces that due to offensive content, DeadBlood has been effectively banned in the country. The offending scene involves an NPC walking past in a cutscene and mouthing (though not actually saying) the word "....paracetamol.....".
2015
January 21 - An early build of DeathBlood's PC version leaks online. YouTube and Twitch are flooded with streams and let's plays of people playing the unfinished build, which features glitches, cut content, incomplete text and placeholder voice acting. Hilarious memes of the bugs from this build, such as "Pants Horse" and "Dick Eyes," immediately cement themselves as part of its online legacy.

January 26 - The Xbox One version of DeathBlood is featured on Conan O'Brien's late night show, where the host struggles with the game's complex control scheme before giving up and making a few jokes about "Dick Eyes" and the sidekick character's Welsh accent.
January 28 - Xbox One copies of BloodDeath are sent to press for review. The review embargo is set by Electronic Soft for February 10. No press outlet, whether online or in print, is permitted to publish their thoughts about the game before this time.
January 29 - Several popular YouTube personalities, given early copies of the game by Electronic Soft, enthusiastically play their way through DeathBlood from start to finish in front of an audience of millions.

February 7 - Electronic Soft blankets Times Square in advertisements, holding a launch party hosted by an NFL player, a C-list comedian, an excited community manager and an uncomfortable middle-aged executive. Fans line up in the cold to get an early copy of the game and an XXXL t-shirt.
February 9 - By mistake, a British transportation newspaper runs their review a day early. DeathBlood receives 4.5 "PHWOARS" out of a maximum 5.
February 9 - After working out a deal with Electronic Soft, the world's largest video game website is allowed to run its exclusive first review of DeathBlood one day ahead of their competitors. The game receives an impressive score of 96 out of 100, with particular praise reserved for its graphics, sound, "replayability" and "immersiveness."
February 10 - DeathBlood's review embargo expires. Every (other) major video game site on Earth publishes their verdict of the game simultaneously. DeathBlood receives largely positive reviews (general complaints being that the game was "short on content and even shorter on new ideas"), earning a Metacritic rating of 81%. Its user rating, however, stands at 1.0 (out of a possible ten), fans complaining about everything from the state of multiplayer servers to feminist critiques in reviews to the spelling of the game's name.
---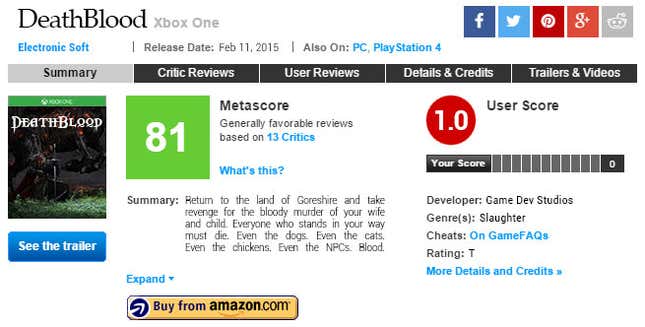 ---
February 11 - DeathBlood is released in North America, Europe and Australia for $59.99.

February 12 - With no public announcement from Electronic Soft, video game news sites are tipped off that many of the developers behind DeathBlood have been let go. Those remaining, disappointed to have missed out on a sizeable bonus for attaining a Metacritic rating of 82% or higher, are immediately put to work on DeathBlood's sequel, Blo0dD3ath.
February 20 - DeathBlood goes on sale for $34.99.
March 4 - NPD data indicates DeathBlood sold an impressive 2.1 million copies in its first month on sale. Electronic Soft, disappointed it did not meet the 4 million sales mark internal analysts had predicted, quietly cancels development of Blo0dD3ath.
April 7 - The PC version of DeathBlood is released on Steam. Featuring superior visuals but riddled with bugs, it is the top-selling title on the service for two days, until it is dethroned by a zombie/crafting/survival sim that's still in Early Access. DeathBlood slides quickly off the Steam charts and won't be seen again until it turns up in the summer sale for $8.99.
Top illustration by Tara Jacoby