Continuing on from recent looks at the unlikely beginnings of companies like Nintendo and Sega, let's today see where Namco - now part of Namco Bandai - got its start. Here's a hint: it certainly wasn't making video games.
No, like Nintendo and Sega, Namco began long before the commercial electronic video game had been invented.
In 1955, Nakamura Manufacturing Ltd. was formed by Japanese businessman Masaya Nakamura (pictured above). For such an innocuous name, it was serving a decidedly niche (and awesome) market: installing children's rides on the rooftops of department stores.
G/O Media may get a commission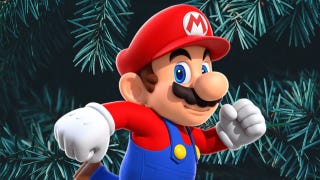 Black Friday
Nintendo Switch Deals
Its first customer was a store in Yokohama, on whose roof Nakamura built two...mechanical rocking horses (left). It's no Disneyland, sure, but a business has to start somewhere. And besides. The Disney stuff would come later.
After a name change in 1959 to Nakamura Manufacturing Co., Ltd., the company scored a lucrative deal installing rides atop the flagship Mitsukoshi department store in Nihonbashi, Tokyo. Instead of rocking horses, though, this time it was a (relatively) elaborate miniature railway.
Business soon picked up considerably, leading Nakamura to open a new plant in Ota-ku, Tokyo, from where his company could manufacture their own rides. In 1966 - the same year this new factory opened - the company struck a deal with Walt Disney to produce children's rides for the local market using the likenesses of famous Disney characters.
It was with the help of a Disney license (for its playing cards) that Nintendo was able to grow from being a small-time toy company into a global video game power. It's interesting, then, that it was Disney again playing a key role in the expansion of Nintendo's eventual publishing partners (and rivals!), Namco.
By 1970, the company had branched out and made its first "arcade" game (a mechanical driving title called "Racer"), and by 1971 had shortened "Nakamura Manufacturing Co., Ltd" to the far more manageable (and now recognisable) name "Namco".
From there, the rest is history. After buying Atari's failing Japanese arm, Namco went from strength to strength, and is today probably best known for its arcade classics like Pac-Man, Galaga, and Pole Position, or more recent series like Ridge Racer and Tekken.
Nakamura, who is still alive today, has been awarded with the "Order of the Rising Sun, Gold Rays with Rosette" by the Japanese government for his contributions to the industry. He's also an inductee in the International Video Game Hall of Fame.
And to think, it all started with a couple of mechanical rocking horses!
Total Recall is a look back at the history of video games through their characters, franchises, developers and trends.