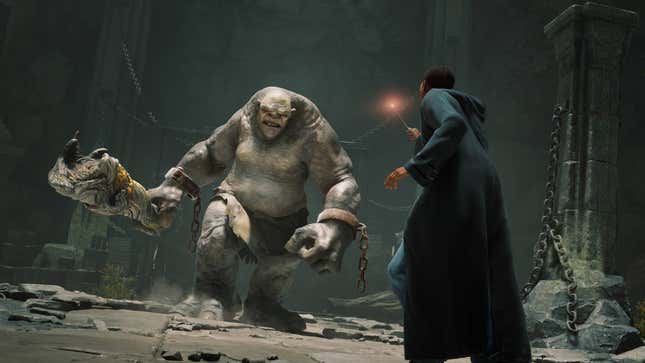 While not every Harry Potter fan is a transphobe like J.K. Rowling, the new open-world RPG Hogwarts Legacy seems to bring out the most dedicated bigots out in full force. As of the pre-launch period, the game's discussion forums on Steam, the leading PC platform, are filled with hateful, transphobic posts from people who clearly need to touch grass.

This Series Asks What If Harry Potter Couldn't Do Magic, Was Swole
While Hogwarts Legacy was developed by Warner Bros., the game has drawn significant controversy because of its series creator. J.K. Rowling is known for posting transphobic views on Twitter, opposing legislation that would make it easier for trans people to stay alive, and spreading misinformation about trans healthcare. The foremost LGBTQ media organization even keeps an "accountability" page on Rowling's damaging actions against trans and nonbinary people.
Rowling is not directly involved with the development of Hogwarts Legacy, but she will reportedly earn profits from the game's use of the Harry Potter IP. Understandably, many people who are sympathetic to transgender rights are uncomfortable with spending money on the game, and many have called for a boycott. The surrounding controversy has colored Legacy's launch. From a cursory glance of the Steam discussions, there was one transphobic or defensive comment every one or two pages. Perhaps this was unavoidable, as Valve only moderates Steam forums if users flag problematic content. Now that the game has launched, Steam users have been posting 2-3 pages of comments every minute or so.
Content warning: Transphobic language
A lot of the comments on Legacy's Steam forums weren't even about the game itself. Several posts thanked Rowling for upsetting the "woke" players and "preventing" queer people from playing the game. Another read: "Dear gays and transgenders in the discussions… If you cannot handle people being different [from] you, you won't survive five minutes outside." Bro, I'm not the sad one posting transphobic garbage on the Steam forums. Another proudly proclaimed that they didn't like Harry Potter, but wanted to buy the game to support Rowling.
Legacy includes a character named Sirona Ryan, who is the franchise's first trans woman. Whether or not she's an example of good representation isn't the main discussion topic on the Steam forums. Instead, most comments are mocking her gender and inclusion in Legacy (including one particularly disgusting post about her skirt, which I won't link here). I don't know if Ryan's existence was meant to be a genuine olive branch towards the trans community, but transphobes have poisoned any possibility of good faith discussion about her on Steam.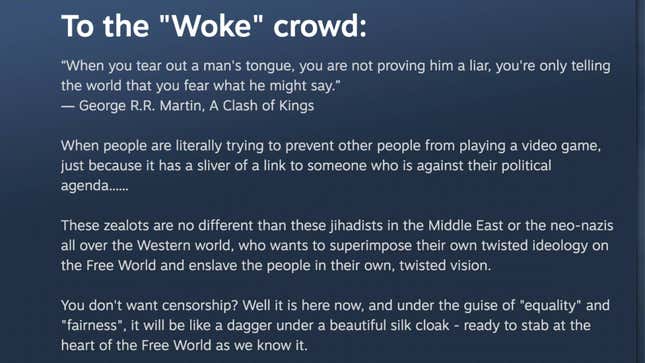 Of course, there's also the regular variety of transphobia that trans people have grown so accustomed to seeing on the internet. One thread with over 100 comments equated being trans to having a mental illness. Others wanted all queer people to die mad. Another thread that indirectly compared trans people to animals was so foul that it was actually locked by a moderator. The vast majority of the Steam forums are still the wild west, and some players were sick of the two sides arguing in the comments. Kotaku reached out to Valve to ask whether or not it intends to moderate these transphobic comments, but did not receive a response by the time of publication.


Not everyone was a hateful turd. Some were appalled at the volume of transphobia on a gaming discussion forum. Others tried to take a stand against the transphobes. Unfortunately, there might be only one way to save these boards: Nuking them entirely.
Update: 2/13/2023 at 10:17 A.M. E.T.: It seems that the Steam discussion forums for Hogwarts Legacy are more heavily moderated now. Several hateful threads that were linked in the original article have now been deleted. Moderators have locked recent threads that seem politically charged, and the recent topics are mainly about gameplay.