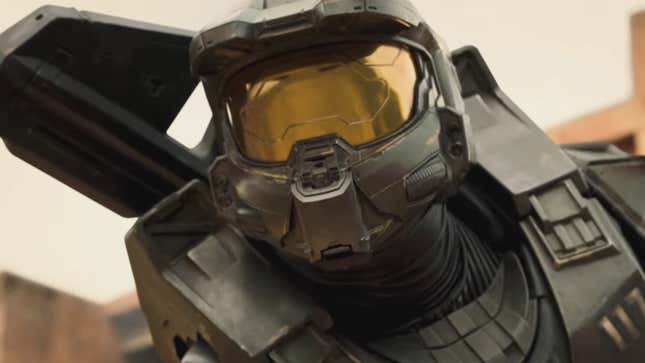 Geoff's Big Show gave us our first full trailer for the upcoming Halo TV series, streaming on Paramount+. It looks...fine. Its really hard to make Doom Guy armor look good in a real human setting.

Incredible Halo Infinite Map Captures Iconic Toy Story Room In Its Full Glory
Halo Infinite's surprise multiplayer release and critically-acclaimed campaign has catapulted it to the FPS center stage, and Paramount+ is taking ample advantage of that fact. The series, which begins streaming in early 2022, takes place before Halo Infinite, during the war with the Covenant. Halo Infinite picks up almost a year and a half after the end of said war, so the series may act as a good entry point for Halo newcomers.
The series appears to include Dr. Catherine Halsey, who is Master Chief's adoptive, war-criminal mother. Halsey kidnapped hundreds of children, sent them to military school, and heavily modified their bodies to turn them into monstrous super-soldiers designed to suppress protesters. These extremely traumatized weirdos turned into the series' signature Spartans after a bunch of aliens showed up and they had to do something other than assassinate "insurrectionists." This is the kind of sicko, deep lore you may be able to expect from the upcoming live-action show.
The trailer is narrated by a woman (presumably Halsey) who describes an unknown subject, while a series of shots of Halo related shots play. It is pretty vague, all things considered. The set design seems pretty alright, albeit sparse. The series' Spartans look passable, albeit kind of silly when interacting with real world objects like sand and real human faces. Translating Halo into a flesh-world setting seems incredibly difficult and I wish the team attempting this gargantuan task nothing but the best.
For those of you who have faith in their ability to actually make a good looking television show, you won't have to wait long as the series begins streaming in early 2022.