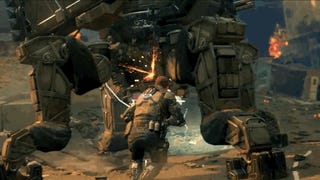 It's official: the next Call of Duty is out on November 6. Watch the debut trailer—set to the dulcet sounds of The Rolling Stones—right here:
As we reported last week, Black Ops III will have a beta on PS4, Xbox One, and PC. To access it, you'll have to pre-order the game. No word on last-gen platforms yet, although we're pretty sure it's gonna come to Xbox 360 and PS3 too.
This is the successor to 2012's Call of Duty: Black Ops II, and the first Call of Duty primarily developed by the studio Treyarch since then, too. Based on the trailer (which is rad), it seems like they're borrowing quite a bit from last year's Advanced Warfare.
You can reach the author of this post at jason@kotaku.com or on Twitter at @jasonschreier.