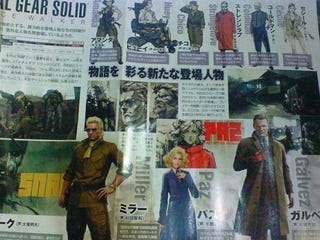 Game designer Hideo Kojima and his Kojima Productions team are hard at work on PSP title Metal Gear Solid Peace Walker.
According to the upcoming issue of Famitsu, here are the characters: Amanda, Huey, Chico, Strangelove, Coldman, Cécile, Miller, Paz and Gálvez. Character illustrations above.
Due out in 2010, Peace Walker takes place 10 years after Metal Gear Solid 3, chronicling the rise of Outer Heaven in Costa Rica. The game is not a side story or spin-off, but a full game written and produced by Kojima himself.