Snowboarder Shaun White is skating into Tony Hawk territory with his upcoming title Shaun White Skating boarding. The game, which Kotaku previously previewed, is being shown in 3D at this year's Tokyo Game Show.
The game is heavy on a story mode — something that Ubisoft says Shaun White requested as he likes games with stories. To make sure the title has enough humor, Ubisoft also roped in a Family Guy screenwriter to work on the script.
In the game, players get influence, which allows them to change the drab environment into something far more dynamic. The title also offers a great deal of freedom in regards to doing things like grinding out a line.
G/O Media may get a commission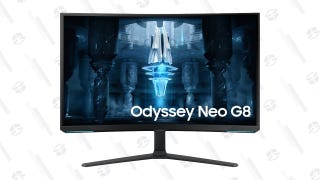 Samsung 32" Odyssey Neo G8 Curved Gaming Monitor
3D didn't feel like an unnecessary tack-on for Shaun White Skating boarding, but rather, the it helped breath even more life in the game as players use their influence to change the world. Pulling off tricks in 3D as a helicopter shot lasars takes the game beyond the typical skateboarding game.
In the eyes-on demo, the character was attempting to escape the Ministry henchmen out to control society and eradicate skateboarding. It's not just the environment that the game lets players change, but is also possible to turn foe helicopters into friends.
Hands-on wise, I got a chance to check out a skatepark-type level. The controls are simple and streamlined. The left thumbstick controls the character. Flicking the right thumbstick makes it possible to pull off moves. And pressing the controller's action button enables less experienced players to pull moves automatically, instead of using the right thumbstick.
Will Shaun White Skateboarding change the world? Probably not. But it just might change skateboard games.