Halo 3 ODST may be a spin-off, but Microsoft wagers that enough content will be packed into the game's box to warrant a $59.99 price tag.
Bungie Studios has suggested that Halo 3 ODST won't be as long as Halo 3. So why will it run the cost of a full game?
Here's a list of the included content according to information released by Microsoft to the press today:
-Halo 3 ODST Campaign, which puts the player in control of different characters in New Mombasa during the events leading up to Halo 3.
-Halo 3 ODST "Firefight" mode, "a new cooperative multiplayer* mode where up to four players can assume the role of an ODST squad and fight together to take on increasingly challenging waves of enemies." Also: "As an ODST squad, you will face increasingly challenging waves of enemies together, striving to earn the highest scores possible, while various "Halo 3" "Skulls" are progressively activated." (It sounds to us like Gears of War 2's Horde mode.)
-Three new Halo 3 multiplayer maps on a standalone disc
-The more than 20 downloadable maps previously released for Halo 3 in the Legendary, Heroic and Mythic map packs.
-A key to the forthcoming multiplayer beta for the fall 2010 Bungie game Halo: Reach
(The new game is said to support all of Halo 3's main features, including four-player co-op, campaign scoring, screenshots and Forge multiplayer map editing)
In addition, Microsoft will sell a $99 Collectors Edition of Halo 3 ODST that ships with the above elements and an exclusive ODST Xbox 360 controller.
G/O Media may get a commission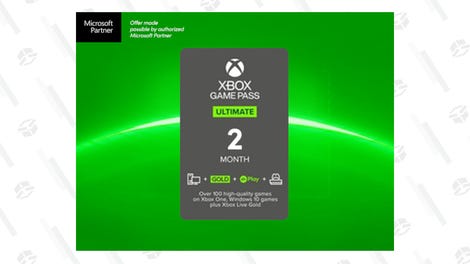 70% Off
Xbox Game Pass Ultimate Two-Month Subscription