Destiny's not a perfect game, but it's pretty addictive, and Bungie has been updating it constantly . In fact, it's one of Kotaku's 12 bests for both the PS4 and Xbox One. If you still haven't picked up your copy, Amazon has them for half price on both current gen consoles, today only. That's better than finding a new loot cave. [Destiny (PS4/One), $30]
---
G/O Media may get a commission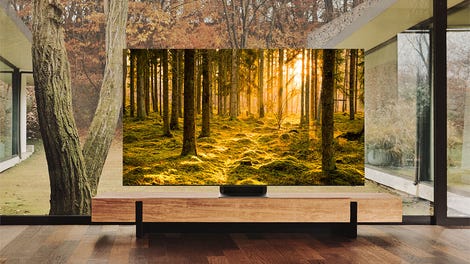 Up to 40% off
Samsung Smart TVs
Speaking of Destiny, Best Buy is selling the Glacier White PS4 Destiny bundle at a $50 discount today, and even throwing in a free copy of Killzone Shadow Fall for good measure. [ Sony Glacier White PlayStation 4 Destiny Bundle plus Killzone Shadow Fall, $400]
Bonus: Here's another option. [PS4 Console + Camera, The Last of Us Remastered, and a game of your choice, $400]
---
If you need a Telltale fix while you wait for episode 2 of Game of Thrones, give The Wolf Among Us a shot for $10 off.
---
We already knew that the Google was bundling in $20 in Google Play credit with the Chromecast for the holidays, but Best Buy is currently adding in an additional $20 in credit on top of that. This means that you're literally paying $30 to get $40 on Google Play, and a Chromecast thrown in for good measure.
Update: We're hearing from a few of you that the Google Play credit isn't showing up in the Google Offers page when you register the Chromecast. You'll still get the $20 from Best Buy, plus some goodies from Google like a free X-Men movie, two months of Hulu+, and three free months of Google Play Music All Access regardless, so it's a good deal no matter what, but keep in mind that your mileage may vary.
Best Buy's $20 credit will be emailed to you after purchase. To claim the other $20, register your device with Google by December 21, and claim the special offer. [Google Chromecast + $40 in Google Play Credit, $30]
---
Most good Mac deals tend to be on Apple's laptops, but today, it's the desktops' turn. Apple's Mac Pro, Mac Mini, and Retina iMac are all on sale today at B&H, with discounts ranging all the way up to $800.
Your savings will vary depending on your configuration, but these are all solid deals if you're in the market for a desktop. Now if you'll excuse me, I'm going to go drool over that Retina iMac.
---
Amazon's running a bonus Gold Box deal on the highly rated V-Moda Crossfade M-80 headphones, today only. You can score a pair in black or white for just $80, which is $10 less than the previous record low price.
So what's so great about these? For starters, they're practically indestructible. The headband is rated for up to 10 flat bends, the cord is wrapped in kevlar, and the whole product is designed to survive 60 drops from head height onto solid concrete.
Beyond that, reviewers almost universally praise these cans' sound quality, and you can even buy customizable face plates to make them your own. As with all Gold Box deals, this price is only valid today, or until sold out. [V-Moda Crossfade M-80 Headphones, $80]
---
Have a free movie for the holidays, courtesy of Google Play. [ FREE Lord of the Rings: The Fellowship of the Ring]
---
ThinkGeek has some great gift ideas for the nerds in your life, and a lot of their most popular items are discounted today. Plus, free shipping! [Think Geek is Having an Everything Sale | Free Shipping with Code SHIPUS]
---
It's not an all-time price low, but if you still haven't picked up Stick of Truth, Amazon has it for PC and 360 for $20 today. [South Park: The Stick of Truth [PC/360], $20]
---
Need something to do with your family this holiday season? Amazon's holding a big board game sale, today only. Over 2 dozen titles available. [Amazon]
---
In case you missed it last week, you can currently take 25% off (up to $10) any print book that Amazon sells with code BOOKDEAL25. We put together a list of our favorites over here, but Amazon basically sells every book there is, so you should be able to find something you want. Today is the last day of the sale. [Amazon]
---
Today on Microsoft.com, you can take $25 off a $75 purchase by texting FITBIT to 29502. The only restriction is that you can't use it on any items that are already on a special discount, so you should be able to use this on most anything they sell. Here are a few of our picks though.
---
Logitech makes some of the most popular computing peripherals around, so you should have no trouble finding a new toy in today's Amazon Gold Box.
The Performance Mouse MX was the overwhelming favorite desktop mouse among Lifehacker readers, and the M510 ran away with the title of best budget mouse as well. Really though, you can't go wrong with anything in this sale, so shop away. These would all make great gifts as well. [Amazon]
---
This Lightning cable is twice as long as Apple's, and yet it costs $7 less. [ iClever MFi Certified 6' Lightning Cable, $12 with code HISCORD4]
---
We rarely see hard drive deals for better than $30/TB. [ Seagate Expansion 4TB USB3 External Hard Drive, $120]
---
Nothing like free money, especially free money good toward video games. Grab yourself some discounted eShop credit and pick up Super Smash Bros., Mario Kart's awesome new DLC, or any number of other great titles for your holiday gaming. [Get 10% Off Nintendo eShop Cards at Best Buy]
---
124 episodes and 4 feature-length adventures, all yours in one complete, attractive set for $80. We're definitely worried about this price not sticking around. [Amazon]
---
Sunset Overdrive gets a $25 discount today from Amazon. Stephen and Kirk at Kotaku are really starting to like it! [Sunset Overdrive, $35]
---
Should You Get The Last of Us Again On PS4? How about for $20? [The Last of Us Remastered,$20]
---
Tomb Raider: Definitive Edition is down to $20 on both new consoles today. [ Tomb Raider: Definitive Edition, $20]
---
If you've been procrastinating on your holiday shopping, and need to pick up a new e-reader, tablet, or streaming box, today's almost certainly going to be your last chance to save on an array of Amazon gadgets before Christmas.
We've seen slightly better deals on most of these, but you're still looking at solid savings of $20 or more across the board. Let us know what you think of these in the comments!
---
Need to charge a lot of gadgets at once? You're in luck today.
---
USB battery packs are my favorite generic holiday gift. They're useful to literally everyone, they offer a tremendous amount of utility for a modest amount of money, and it still seems like most non-nerds aren't fully aware that they exist. If you have anyone on your shopping list that could use one, here's a great deal.1
For a limited time, you can get a 13,000mAh Anker E4 for just $24 with code ANKERCM1, matching a Black Friday lightning deal. That's enough juice to charge up your average smartphone 4-5 times over, and is great for long flights, camping trips, power outages, and general battery life paranoia. Anker battery packs are among the most popular items we list, and they all carry stellar review averages. [Anker 2nd Gen Astro E4 13000mAh External Battery,$24 with code ANKERCM1]
---
If Google+ is your network of choice, we'll meet you there too. Just add us to your circles, and tell your friends to do the same.
---
You could probably stand to vacuum more, and this week we're taking your nominations for the best tool for vacuuming better. Which vacuum is the best, and which features matter the most to you?
---
Gaming
---
Peripherals
PC
PlayStation 4
Xbox One
PlayStation 3
Xbox 360
Wii U
3DS
Board Games
Toys
---
Media
---
Movies & TV
Books & Magazines
Apps
---
Tech
---
Storage
Power
Headphones
Home Theater
Computers & Accessories
PC Parts
Phones and Tablets
---
Inventory
---
Find a lot more deals over on Kinja Deals
Home
Kitchen
---
We work together with you to find the best products and the best deals on them, click here to learn more. We operate independently of Editorial and Advertising, and if you take advantage of an item we cover, we may get a small share of the sale. We want your feedback.