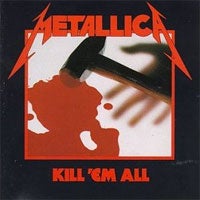 When Activision stealth announced the release of Guitar Hero: Metallica via an SEC filing, fears of artist exclusivity gripped Rock Band fans. After all, Activision CEO Bobby Kotick had referred to Aerosmith as "proprietary" to the Guitar Hero format earlier this year.
We contacted Activision to find out if Metallica getting the titular treatment in a new Guitar Hero game meant that they'd be locked in to that particular brand. "We do no have further comment beyond what was in the SEC filing" read a corporate statement. No help there.
Harmonix reps, on the other hand, helped to calm our fears, if just a bit.
While not giving outright confirmation that Metallica was free to roam on both Guitar Hero and Rock Band indefinitely, we were told that the announcement "doesn't change our plans" in relation to the developer's announcement from Summer of last year. In July of 2007, Harmonix announced a deal with MTV and Metallica that would "showcase the incredible depth of the band's music", with MTV Senior VP Paul DeGooyer saying the agreement would provide "not just one song by a player's favorite artist, but a carefully-chosen career-spanning array."
That statement also touted that "the range of Metallica songs that will be available to Rock Band players will allow them to play along as the history of the genre unfolds." Quantitative? Hardly.
Harmonix reps weren't willing to comment beyond supporting the already announced deal, so things may change at some point in the future. But for the time being, it appears that the four Metallica tracks currently available to Rock Band users probably won't be the last.
If they are, I think we know who to blame. Lars.