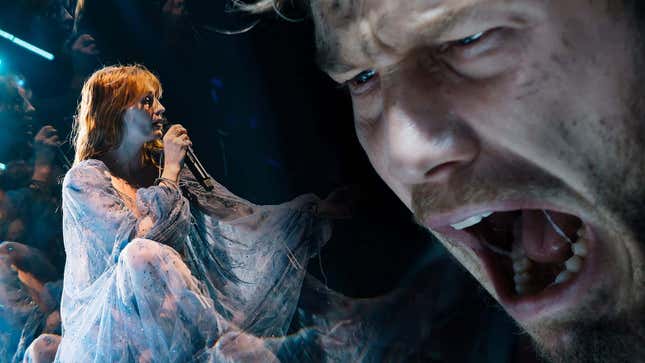 Guardians of the Galaxy Vol. 3 punctuated the ending to arguably one of Marvel's best trilogy films (don't @ me) with an emotionally gratifying final needle drop that had its titular characters, the fans, and even the musician behind the song ugly-crying with happiness. Minor spoilers ahead.

On Monday, Florence Welch, the lead singer of the popular indie rock band Florence and the Machine, uploaded a TikTok video of herself reacting to her song "Dog Days Are Over", which served as the final song in Guardians of the Galaxy Vol. 3. If you've already seen the film, which came out over the weekend, listening to the song likely had you grinning with glee through tear-filled eyes just like Welch, because it served as a spectacular send-off to the comic book heroes' nine-year cinematic journey.

"So I cried all the way through this movie but when The Guardians of the Galaxy started dancing to 'Dog Days' I really lost it," Welch wrote in her TikTok caption. "Thank you so much for all the love for this moment. The superhero-obsessed little girl in me can't believe it happened."

Read More: PSA: Animal Lovers, Brace Yourselves For Guardians Of The Galaxy, Vol. 3
Every Guardians movie has its perfect song
Each of Marvel's Guardians of the Galaxy films packs an emotional gut-punch with its poignant plotlines and an undeniably feel-good bop in its Awesome Mixes. In Guardians of the Galaxy Vol. 1, we saw how Star-Lord's relationship with his late mother affected his devil-may-care outlook on the universe and his place in it. In Vol. 2, we got to see how Star-Lord's estranged relationship with his all-powerful father Ego didn't define the man he could become. The first two movies accentuated key emotional beats with The Jackson 5's "I Want You Back" and Cat Stevens' "Father and Son," respectively.
In Guardians 3, the camera took its focus off of Star-Lord and instead sheds some much-needed light on the trash-talking Rocket Raccoon, revealing how he came to be the standoffish anti-hero he is today. We'll spare you any spoilers, but be warned, the two-hour and 30-minute movie does depict gruesome scenes of violence against animals while revealing Rocket's harrowing backstory. But if you can get past that, the happiness emanating from Guardians 3's finale will hit you like a train on a track, as Welch's song puts it.
Read More: Guardians Of The Galaxy Vol. 3 review: James Gunn's trilogy ends with a big, brash blaze of glory

Guardians 3 outsold the Mario movie in its opening weekend
In non-crying-related news, Guardians of the Galaxy Vol. 3 has rocketed past Nintendo and Illumination Studios' Super Mario Bros. Movie's opening weekend haul with a total of $282 million at the box office. For those keeping track, The Super Mario Bros. Movie, also starring actor Chris Pratt, made a total of $137 million during its three-day domestic opening weekend, according to Box Office Mojo.
The dog days are over for Pratt as well, because after securing the Nintendo and Marvel bag, he's coming for the Sony bag next year when he offers his voice to the sardonic orange cat, Garfield.

Correction 05/08/2023 Monday4:47 p.m.: Fixed a song attribution from the first movie.