Need some extra controllers for your Xbox One, pick up the controller with play and charge kit today for $60, or the Play and Charge Kit separately for $19.
The Advanced Warfare Limited Edition Controller is also up for preorder.
---
Get these deals and more, and earlier on Deals.Kinja. Connect with us on Twitter and Facebook to never miss a deal, check out our Gaming and Movie/TV release calendars to plan your upcoming free time, and join us for Kinja Co-Op to vote on the best products. Got a deal we missed? Post it in the comments with a link and we'll share right to our Deals homepage.
G/O Media may get a commission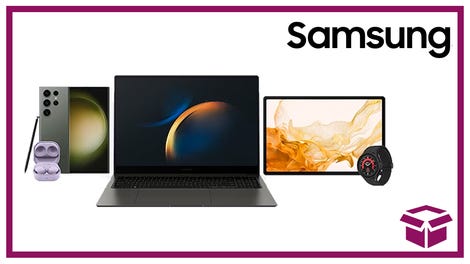 24 hour deals
Discover Samsung - Daily Deal
---
The latest Humble brings quite the variety of genres, and if you spring for the upper tier there's a lot of Age of Empires in it for you. [Humble]
---
Today you can own a 3DS XL for $100 if you don't mind refurb. Even crazier, tax is only charged in NY, so you're saving even more. [3DS XL]
---
The best deal in video games is once again down to $40, making it even better. [Playstation Plus]
---
Four HDMI cables, three velcro ties, and a right angle adapter for $9. Don't think, just buy. [ Twisted Veins HDMI Pack, $9]
---
Preorder the extended edition of The Hobbit: The Desolation of Smaug on Blu-ray for just $20 today.
---
We've updated our game release calendar , so go check when your favorite upcoming video games will be on shelves.
---
Star Trek TNG Complete Series | $131
Star Trek DS9 Complete Series | $165
Star Trek Voyager Complete Series | $167
Star Trek Enterprise Complete Series | $98
---
27", IPS technology, 2560x1440 resolution. No, this isn't an Apple Thunderbolt Display; it's a BenQ monitor for barely more than 1/3 of the price. [BenQ 27" IPS Display, $380]
---
The SONOS PLAY:1 is a great first step to outfitting your home with wireless speakers, and the rarely discounted model is $30 off today. If you're a Rakuten shopper, a promo code will also kick back significant credit for future purchases. [SONOS PLAY:1 Wireless Speaker, $170 plus $25.50 back in credit with code FLASH15]
---
Plasma TVs are going the way of the dodo, and the world is worse off for it. Today though, you can get one of the last models in production for a fantastic price. [ Samsung 51" 1080p Plasma TV, $500]
If that doesn't scratch your particular TV itch, Best Buy has a great one-day sale going on a lot of other models as well.
---
For people with a lot of gadgets, this 7-port charger is great for traveling, or for just keeping on your desk. You'd be the hero of the airport if you pulled this thing out in the terminal. [Bolse 60W 7-Port USB Wall/Desktop Charger, $33 with code J6MIAQYU]
---
Amazon's Fire TV is a legitimately great streaming box, if a tad expensive. Today only though, it's a little easier on your wallet. [Amazon Fire TV, $85]
---
Big chargers are great, but pocketable ones definitely have their place. Anker's excellent lipstick-sized 3,000mAh battery is 20% off today as part of their back to school promotion. [ Anker Astro Mini 3000mAh External Charger (Blue/Silver), $16)]
---
Games
Peripherals
PC
PlayStation 4
Xbox One
PlayStation 3
iOS
Android
Board Games
Toys
---
Media
---
Tech
Home Theater and Headphones
PC Parts
---
This post is brought to you by the Commerce Team. We work together with you to find the best products and the best deals on them. We operate independently of Editorial, and we want your feedback.