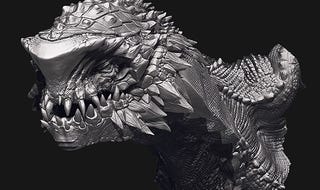 Fine Art
[Fine Art](https://kotaku.com/c/fine-art) is a celebration of the work of video game artists, showcasing the best of both their professional and personal portfolios. If you're in the business and have some art you'd like to share, [get in touch!](mailto:plunkett@kotaku.com)
Patrik Karlsson is a veteran character artist who has worked on games like Syndicate, Brothers: A Tale of Two Sons, Darkness and Riddick. Here, though, we're looking at his work on Dragon Age: Inquisition.
I love blank 3D models for the same reason I love black & white sketches; colour is nice, but with a blank slate you can really see the detail that went into these characters.
You can see more of Patrik's work at his personal site.
---
To see the larger pics in all their glory (or, if they're big enough, so you can save them as wallpaper), click on the "expand" button in the top-left corner.
Fine Art is a celebration of the work of video game artists, showcasing the best of both their professional and personal portfolios. If you're in the business and have some concept, environment, promotional or character art you'd like to share, drop us a line!
---