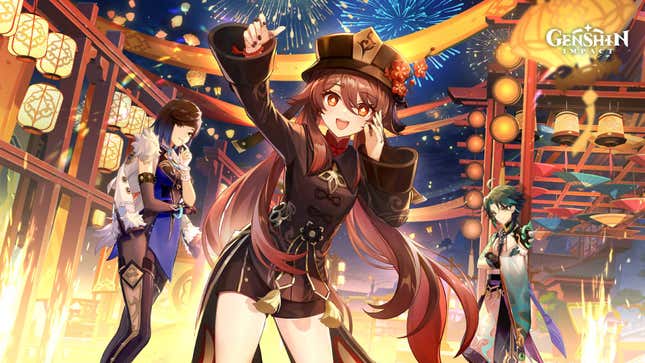 I hollered while I was watching the Genshin Impact update stream. Aside from giving players free stuff (arguably the least exciting part of being a Genshin enjoyer) during China's biggest holiday, the developers teased something that I suspected all along: The hyper-secretive Alhaitham could be the most interesting character of the current Sumeru storyline. To everyone who believed the lore that said Alhaitham was just some dude: Did you also believe that the immortal Zhongli was just some dude? Come on, now.
Why Mario Strikers: Battle League Could Be Nintendo's Next Multiplayer Hit
First, a bit of context. Within the current storyline, Genshin players have occasionally encountered Alhaitham, an unassuming scribe who presents himself as an ordinary, boring government employee. Here's how the update stream amusingly blew the lid off of that idea: One of Genshin's writers was introducing Alhaitham as a secretary who had helped players save an imperiled goddess from his own government. HoYoverse's CEO Da Wei asked: "This is the 'feeble scholar' Alhaitham?" playfully referencing the way the bureaucrat had described himself in front of the protagonist. The writer started laughing on the spot.
A significant portion of the Genshin fandom believed that Alhaitham was truly just some guy trying to live his life, hence the origin of the feeble scholar joke. Psych. Although he rejected the highest government position in the country, his own peers will force him to become their leader in the near future. So we'll be seeing a lot more of this feeble scholar trying to pull his country together during the next major story patch.
Some fans are devastated at the possibility that Alhaitham might be important. It's okay. You'll get through this somehow. Personally, I think HoYoverse already gave us plenty of hints. When he talked about the plight of scholars who were "disappeared" for developing mental illnesses, he was clearly hiding exactly how much he knew about their plight. I'm starting to suspect that he's keeping a low profile because of something that happened in his past.
My Alhaitham thirst aside, here are the other highlights from the stream:
A new desert area
The Desert of Hadramaveth will continue the lore-heavy storyline of the mercenary Jeht and her mechanical companion. The academics of Sumeru believed that the ancient king of the Eremites (a marginalized racial group) was an awful tyrant. This narrative has been used as justification to marginalize the Eremites. Previous quests have suggested that the truth is more complicated, and players will be able to find out more in the near future. Since Genshin has a tendency to lock areas behind certain quests, you should finish "Golden Slumber" and the new "The Dirge of Bilqis" before trying to explore Hadramaveth.
The Lantern Rite festival
Genshin has a Chinese New Year-inspired event every year, and it's coming in the next patch, bringing with it new minigames that you can play. Completing them will award you premium currency and other useful items. If you finish enough minigames, you'll also be able to redeem one free 4-star character. Last year, I wrote up a useful guide on which character to pick. The new healer Yaoyao is included in 2023's lineup.
The wind god Venti will be visiting the China-inspired region for the festival, which has sent shippers into a frenzy about their favorites meeting onscreen for the first time. Congratulations, Xiaoven shippers. Your time has finally come after almost three years of waiting.
New characters
MY BOY ALHAITHAM IS FINALLY HERE. I know that there's a high chance that you've seen the leaks. But HoYoverse still has a couple of weeks to tweak his kit, so remember that he might not be as powerful or weak as leaks may suggest. That's not accounting for the possibility of mistranslations (Raiden Shogun) or changes (Zhongli, Yae Miko). YouTubers are already panicking over leaks about an alleged Alhaitham nerf that would hurt his damage potential.
But those are invisible damage multipliers. It's much harder for the developers to change things that they've already revealed in the livestream. So far, it seems like Alhaitham is intended to be either a DPS or a sub-DPS character. His ability allows him to gain Dendro application, and Dendro is a reaction element. So his kit facilitates keeping him on-field while being supported by off-field characters such as Raiden Shogun or Kokomi.
Yaoyao is a support character who should be easier to obtain due to her lower gacha rarity. She will be our first ever Dendro healer, which gives her a niche that no other character has at present. But before you dump all your primogems into her banner, I'd suggest you wait. You can get a free copy of her by playing the Lantern Rite event. So if you want her, I suggest grinding for her instead of going all-in on the gacha.
Alhaitham and Yaoyao will be available during the first half of the patch. Xiao will also have his rerun during this period. You'll be able to pull for Hu Tao and Yelan during the second half. So be sure to plan carefully, or you might find yourself spending more than you intended.
Ayaka and Lisa are getting new skins
Okay, don't get too excited. Though I think it's interesting that they've used a European design for Ayaka's skin, I don't feel like it's an improvement over her default outfit. Her original clothes balanced her light-colored design with deep blue hues. This spring-hued dress seems blinding in comparison.
Lisa's outfit is based on her academy days, and it's… fine, I guess? Lisa is one of the most underwhelming characters in the game, and I gave up on raising her levels long ago. This plain school uniform doesn't compel me to use her any more often. I feel like this one was a miss. Stop trying to make Lisa happen, HoYoverse. She's not going to happen without a significant buff.

Genshin Impact's update will be available starting from January 18.