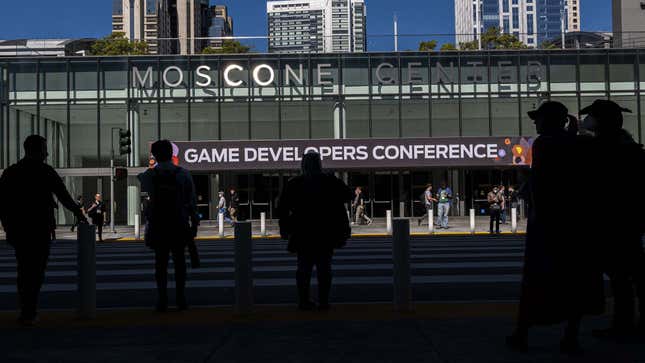 Several game developers who attended this year's Game Developers Conference have reported that they experienced harassment on the show floor, while others claim they had their drinks spiked at a networking event that took place off-site.

Diablo IV Druids, Do This ASAP To Unlock Some Powerful New Abilities
CW: This story contains allegations of harassment and assault.

The Game Developers Conference (commonly called GDC) is a massive industry event that takes place annually in San Francisco. Professional developers and reporters often attend in the tens of thousands, with talks and events taking place over a four-day period. There are also often unofficial GDC events that take place throughout the city of San Francisco, as well, giving industry professionals a chance to network outside of conference rooms. But as is the unfortunate reality of being a woman in a male-dominated space, those events are often associated with uncomfortable scenarios, unwanted advances, and in some cases, assault.

Guy Blomberg, vice-president of video game PR agency Stride, known for working on games like Dying Light 2 and Bright Memory: Infinite, tweeted this weekend that he had "been informed of multiple folks that were roofied last Thursday night in SF, most probably at the karaoke event we hosted." The event was hosted by Blomberg and friends at a karaoke bar called Pandora, which is in San Francisco's Tenderloin neighborhood.

"I'm so very sorry that they had to go through such a horrifying experience, it's absolutely not their fault, and we're already in the process of tracking down the fucking scumbag who did this," Blomberg continued in a thread. "I'm furious this not only happened, but that it tends to happen so frequently that it's become almost common place [sic]. It's NOT fucking ok or acceptable. We are doing everything we can to work with the venue, look through security footage, and reach out to various people."

Kotaku reached out to the venue and Blomberg.

The San Francisco Police Department said via email that "based on the information given we were unable to locate a report for your request." So it does not appear that an official police report was filed in regards to the alleged drink spiking at Pandora.
But the violence and harassment against women doesn't end there, according to those who attended this year's GDC. On March 25, the Games and Online Harassment Hotline shared a statement on Twitter, saying that "every year there are stories about groping, drugging, harassment, and even more stories of countless attempts to create opportunities for assault at games industry events like #GDC23. It's heartbreaking and infuriating that this feels so normalized…" The account then shared info for how to reach the hotline: Text the word 'SUPPORT' to 23368.

Game writer developer Leena van Deventer, who attended GDC this year, wrote on Twitter that "so much is improving for women in the games industry," but despite that, "women at GDC this year have been belittled and undermined in their roles, been hit on relentlessly, and had their drinks spiked by predatory men. Two women were even lured up to a hotel room by a man in a position of power for a 'pitch,' where he then assaulted them."

Kotaku reached out to van Deventer for comment.

A GDC representative provided Kotaku with a statement when asked about the alleged drink spiking at an off-site party and unwanted advances happening at the show and elsewhere:

We are very upset to hear that some people, especially women, reported concerning experiences during the GDC week at off-site events, including assault and drink spiking. This is outrageous and unacceptable; everyone has a right to feel safe. We severely condemn any such behavior and support the victims; we encourage reporting to the police and hope the perpetrators will be found. At the GDC event, we take everyone's safety very seriously, we do our best to provide a secure environment on site, we enforce a strict code of conduct and make sure that the GDC team is available to help participants contact venue security or local law enforcement, to provide escorts, or to otherwise assist those experiencing unacceptable behavior to feel safe for the duration of the conference.
It's important to note that, as others have suggested, this is not the first time women and women-presenting attendees have felt uncomfortable at a games industry event, nor will it likely be the last. Twitch ambassador Sam Seum alleged in an April 2022 Tweet that she was roofied at a PAX East 2020 party. An April 13, 2022 Tweet from a Twitch streamer who goes by Artie read, "I bought 150 kits for testing roofied drinks to take to PAX East and hand out. I'm so tired of people getting hurt and nothing being done." And streamer Andy Pyro tweeted back in June 2020 that a friend of his was allegedly drugged after he drank a drink that was offered to a group of women they were hanging out with.

Unfortunately, in an industry that still bears the scars and ideologies of GamerGate, in a world where women's bodies are consistently policed and politicked by men, this kind of shit will continue to happen. Widespread change is the only thing that will help women feel safe in this industry and beyond.

Update 3/27/2023 at 5:25 p.m. ET: This story was updated with a comment from the SFPD.
Update: 3/29/2023 at 9:25 a.m. ET: This story was updated to clarify who hosted the karaoke event.