Of all the things wrong with big, blockbuster video games, few are as shitty as the obsession with preordering. So you'll be just thrilled to know that GameStop's plans for the future of the practice are, should they ever come to fruition, pretty much a nightmare scenario.
According to a report on GamesBeat, the retail giant recently met with investment company R.W. Baird to talk about the company's future, and one of Baird's analysts has revealed some of the things that they spoke about.
"[GamesStop] indicated that software publishers are more enthusiastic about partnering with it," Baird's Colin Sebastian wrote. "For example, by offering exclusive content on each major game release, and longer term, future models may include GameStop offering exclusive gameplay."
GamesBeat asked him to clarify what exactly that "future model" meant, and Sebastian added the retailer is thinking about "getting involved at the time of game development where there could be some content exclusive to [the retailer] included in the game."
G/O Media may get a commission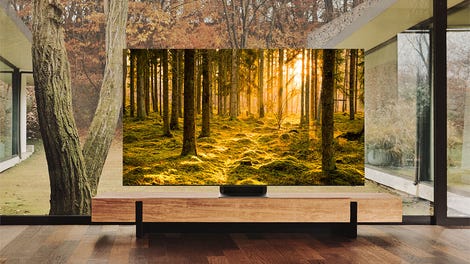 Up to 40% off
Samsung Smart TVs
So if you thought it was stupid that peripheral content like skins and maps was split up between retailers, just wait until GameStop can offer actual parts of a game you can't get anywhere else. Then wait for Walmart and Best Buy and Amazon to catch on. It'll be great.
We've contacted GameStop for comment, and will update if we hear back.
UPDATE - A GameStop spokesperson tells Kotaku "We are always looking for product to meet our customers' needs and create excitement and we work closely with our partners to do just that."
"We see great opportunities in partnering with publishers to create content for GameStop exclusives and while this does not include the artistic design and development of games it does include offering our financial or distribution capabilities."
When asked to clarify whether that meant developers would be handling the "artistic design" and GameStop would simply be paying for the content, the spokesperson replied "It's too early to tell. We've just started having the conversations with our publishing partners."
GameStop's next step for preorder exclusives: Getting into a big game's development process [GamesBeat]