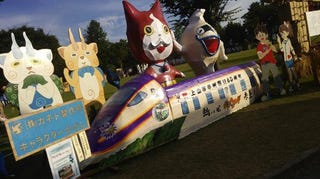 It's late September. In Japan, that means rice is being harvested. And where there are crops, there are scarecrows. Some of them are hardly typical. Thank goodness for that!
In late summer and early fall, many hold scarecrow festivals. Back in 2012, Kotaku introduced a handful of unique Japanese scarecrows. Here are some of the more interesting ones from this year.
Not all the scarecrows are game and anime characters. That being said, get ready for lots and lots of Yokai Watch scarecrows!
[Photo: sachio112708] Here's Totoro and Godzilla.
[Photo: 20asx] Jibanyan from Yokai Watch.
[Photo: TONESAN31]
[Photo: keijitoriyabe]
[Photo: takaoka] Remember this guy?
[Photo: ai7n]
[Photo: saico0]
[Photo: himasahiko]
[Photo: konjiro596] This is Komasan from Yokai Watch.
[Photo: micky_suzuki]
[Photo: sun53x] Prime Minister Abe and Taro Aso and...Jibanyan.
[Photo: s_nnm1010] Note that this pic is from last year. But it's great and worth sharing!
[Photo: hisayama]
[Photo: Tb_kone]
[Photo: Blogichiba]
[Photo: MU_6] The sign warns people about traffic accidents-nyan. Jibanyan became a yokai after getting hit by a car.
Top photo: yamagata_dc
To contact the author of this post, write to bashcraftATkotaku.com or find him on Twitter @Brian_Ashcraft.
Kotaku East is your slice of Asian internet culture, bringing you the latest talking points from Japan, Korea, China and beyond. Tune in every morning from 4am to 8am.