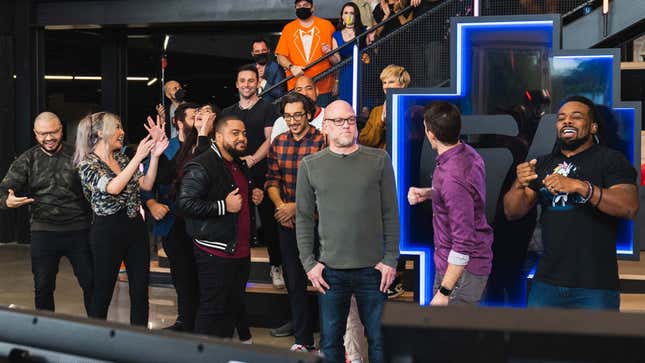 At least somewhere between 20-30 staff members were laid off at G4TV today, according to three sources familiar with the business. The video game talk show network from the 2000s was resurrected last fall on streaming platforms like Twitch as well as cable TV, but now faces major upheaval less than a year later. "I truly can not imagine the company continuing to produce our slate of content without the people we lost today," said one employee.

The 3 Best And 3 Worst Korok Challenges In Tears Of The Kingdom
The timing and severity of the cuts took staff by surprise, with talent showing up on set today ready to film only to have programming cancelled as HR reps met individually with employees. While it's not clear what the extent of the layoffs will be, one source said those affected were told they would receive anywhere between 16 weeks and six months of severance based on their tenure with Comcast, G4's parent company.
Three sources tell Kotaku that G4's finances have been in bad shape for some time, and managers were tasked with looking for cost savings wherever possible. Things apparently came to a head during an all-hands meeting a couple of months ago when then-G4 president Russell Arons discussed the troubles the business was facing and proposed unrealistic revenue goals for the year ahead. Staff felt blindsided, one source said, due to a lack of clear goals for measuring success against up to that point.
Arons left shortly after and was replaced by Comcast Spectacor executive Joe Marsh who sources say was only interested in finding ways to slash the budget. The suddenness and severity of today's layoffs were unexpected, however, and call into question what the future of the new G4 will be. The network just recently announced a slate of new content, including a satirical Xplay show called God of Work, a play on Sony's hit God of War series.
Originally launched in 2002 by Comcast, G4 was the only outlet for gaming news, reviews, and discussions on TV at the time. Its main shows were Xplay, hosted by Adam Sessler and Morgan Webb, and Attack of the Show!, hosted by Olivia Munn and Kevin Pereira. Those shows were eventually cancelled in 2012, and the network closed down a few years later as gaming video content migrated online.
The network then relaunched in November 2021 with a mix of old and new talent, as well as plans to stream daily content on Twitch and other platforms in addition to being hosted on cable. In addition to Sessler and Pereira returning, new hosts included pro wrestler Austin "Xavier Woods" Watson, Indiana "Froskurinn" Black, Jirard "The Completionist" Khaliland, Fiona Nova, and many others.
The relaunch was reportedly the brain child of Tucker Roberts, the son of Comcast CEO Brian Roberts. Tucker led the cable and internet company's move into esports and is currently the president of the competitive Overwatch team, Philadelphia Fusion. According to one source, however, Tucker stepped away from G4 operations back in March.
Update: 9/15/22, 2:08 p.m. ET: G4 hosts Fiona Nova and Case Blackwell went live at 2:00 p.m. on Twitch Thursday for the latest episode of The Feedback and addressed the layoffs, reassuring viewers that while close colleagues had been laid off, there were no plans to scale back the channel's programming.
"What I will say is yeah, we lost some really talented and amazing people, people that honestly are family to us," Nova said. "We were all crying, we were all devastated, which is why we could not do a show yesterday. Emotions were high and it was the right call to cancel it."
She was referring to the latest episode of Attack of the Show! which would have normally aired on Wednesday. She stressed that the scheduling change had nothing to do with lacking the necessary staff to keep producing it.
"At the end of the day, nothing has changed, we are literally going to be doing the same amount of content we've been doing since last November," Nova said. "We're growing and this is what growth looks like, it has its ups and downs."
Update: 9/20/22 1:56 p.m. ET: A week after the layoffs, Kotaku has learned that Xplay host, Indiana 'Froskurinn' Black, is no longer with G4. Comcast, G4's parent company, bought out the remainder of her contract, according to two sources familiar with the business. The news was announced internally by Joe Marsh in a townhall meeting on Tuesday morning.
Black came to G4 from the League of Legends esports scene where she was a color commentator. In addition to discussing the latest news and helping review games, Black was also occasionally outspoken, especially on the misogynistic comments and harassment often leveled at the more diverse reboot of the network, including her personally. In a January episode she called out the sexist expectations and double-standards of some G4 viewers in a speech that co-host Adam Sessler called one of the "most amazing things I've ever been part of on live TV."
Update: 9/14/22 6:05 p.m. ET: Added more information about how staff learned about cuts.
Correction: 9/15/22 2:30 p.m. ET: Fixed description of Joe Marsh's role at Comcast Spectacor.