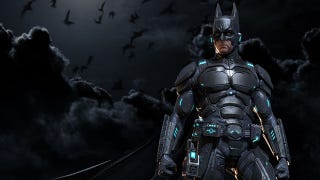 Fine Art
[Fine Art](https://kotaku.com/c/fine-art) is a celebration of the work of video game artists, showcasing the best of both their professional and personal portfolios. If you're in the business and have some art you'd like to share, [get in touch!](mailto:plunkett@kotaku.com)
A community site for game artists is holding their annual fan art challenge for Comic-Con, which means everyone gets to take a break from drawing space marines and draw some superheroes instead.
Some of these images are just recreating the existing look/style of a character, while others are getting a little more imaginative. Satoshi Arakawa's Batman, for example, took a little inspiration from not just the Arkham games, but Metal Gear and Mass Effect as well (the latter of which always looks awesome).
I've posted some highlights below, but you can check out all the entries over on the competition's page.
---
To see the larger pics in all their glory (or, if they're big enough, so you can save them as wallpaper), click on the "expand" button in the bottom-right corner.
Fine Art is a celebration of the work of video game artists, showcasing the best of both their professional and personal portfolios. If you're in the business and have some concept, environment, promotional or character art you'd like to share, drop us a line!
---
BATMAN BY SATOSHI ARAKAWA
HAWKGIRL BY NARA

THE JOKER BY DANILO ATHAYDE

WONDER WOMAN BY encountermy18
CONAN BY FrAcTuRe
THE GOON BY LIAM GRICE

HELLGIRL BY LAUMII

JUGGERNAUT BY MUDAKIR