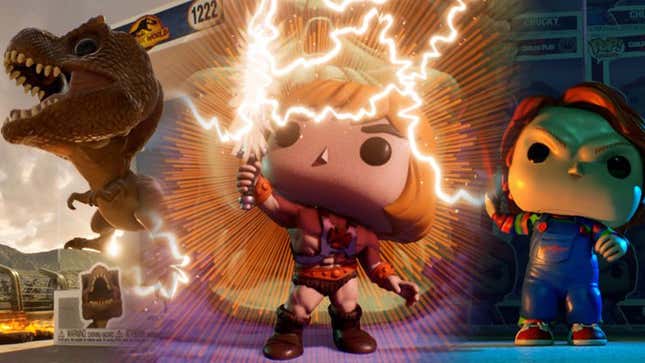 Funko Fusion, announced Tuesday, is an upcoming video game starring Funko Pop characters that will mix together takes on various Universal-owned IP into a pop-culture mishmash that I assume somebody, somewhere is probably excited about.
Why Mario Strikers: Battle League Could Be Nintendo's Next Multiplayer Hit
Funko Pops are more than just plastic detritus that gets dumped into landfills because people won't buy them. They are also odd-looking plastic toys that can be found at every store on the planet these days. Over the last decade the company behind them has cut deals with seemingly every major IP holder and flooded the market with big-headed figures based on basically every damn movie, TV show, comic, and video game you can imagine. And now these cursed melty-faced figurines that people sometimes spend way too much money on are making the leap to video games with the help of NBCUniversal, which is using the toy-themed video game as a way to remind us all just how much of our pop culture is owned by a small handful of megacorps.
In the new trailer released today which announced Funko Fusion, we get to see how weird things get when a corporation digs into its trove of IP and mixes it all together with little care or concern for thematic coherence. For example, at one point in the trailer, we see the iconic and gory scene from The Thing in which Dr. Copper gets his arms ripped off by an alien monster imitating a person's body. Just seconds before that we see Funko versions of Back to the Future characters having family-friendly fun.

Does all of this stuff go together? Not really. But as with the various streaming services we've seen pop up over the last few years, it doesn't matter. All that matters is big corps like Universal or Disney get to toss all their IP into a big box and sell it back to people over and over.

Who's making Funko Fusion?
Funko Fusion, which currently doesn't have a specific release date beyond 2024, is being developed by 10:10 Games. The new studio was founded by former members of TT Games, the studio behind popular Lego games like Lego Star Wars. Funko Fusion is the first game from the young UK studio, and from the small amount of gameplay seen in the trailer today, it seems Funko Fusion will feature colorful, third-person action gameplay similar to TT's hit Lego games.

In a press release, Arthur Parsons, the game's design director, said it's "incredibly exciting to be able to show everyone what the team here at 10:10 Games has been up to." He also mentioned how the studio was "entrusted" by Universal to harness the various properties owned by the large media company and present them through a "Funko lens." Terrifying stuff.

Funko Fusion is out next year. It's coming to PC and not-yet-confirmed consoles. In the meantime you can remember the last time we got a Funko Pop-themed video game: It was a Gears of War mobile game that shut down in 2021. Let's see if Fusion does better!