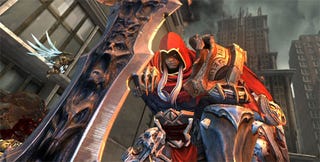 Even if Darksiders owners didn't have that special "mystery" coupon that was previously required to secure a free copy of Red Faction Guerrilla, they can still snag a complementary copy of THQ's Martian shooter. There is, of course, an asterisk.
THQ and Vigil are opening up the free copy of Red Faction Guerrilla floodgates to anyone who purchased a new copy of Darksiders. It also requires sending in your Darksiders UPC code, your original purchase receipt and some shipping and handling cash. But, hey, free-ish Red Faction!
Oh, one more asterisk. The offer is only available to US residents. And make it snappy. You have until March 7 to get this all done. Additional details at the Darksiders blog.
The Codeless are Not Forgotten [Darksiders blog - thanks, Hasani!]