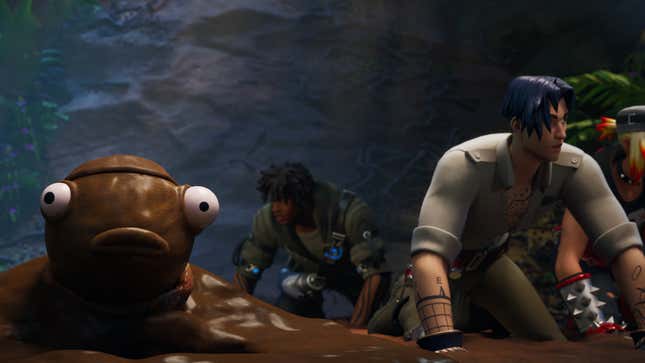 We're three weeks into Fortnite's latest season and hopefully you've been able to cross off the weekly quests without much trouble thus far. This week, however, you might've come across a few challenges that aren't as familiar, including one involving one of the new mechanics: Mud. Insert joke about getting dirty and let's get to work finishing off this week's quests (as well as last week's bonus one).
Here's A Soulslike That Anyone Could Play, Probably
How to cover yourself in mud and slide 100 meters
The mud-sliding quest is the second step of one of this week's quests where you'll need to thank the bus driver and loot a chest three times. If you don't know how to do this, it's straightforward: Press B on a keyboard or Down on the d-pad while in the bus and you'll thank the bus driver. Then dive down somewhere safe and grab a chest.
Once you've done that, you'll be asked to lather yourself in mud and do some sliding. Head for the new jungle area and look for any thick, brown areas of the ground. Stepping on these areas will net you a cloak of mud. Do that and then get ready to slide.
I found the one of the best places to get 100-meters of distance is just northwest of Mega City. You'll find a downward slope continuing northwest that heads towards a temple structure. This slope will be covered in mud but there's also an exposed pipe spilling water out. Cover yourself in mud, and then head up to the top of the slope, then race down and slide to the temple. You should be able to cover 100 meters in just one trip, but watch out for the water, as that will wash the mud off you.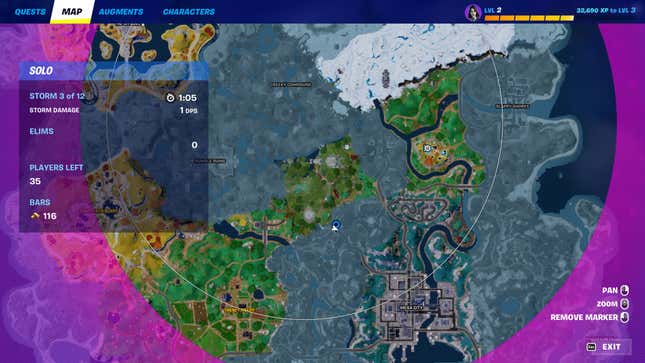 NPC locations for Fortnite Chapter 4, Season 3
The next two-step quest of this week's to-do list has you first damaging opponents with assault rifles. After you do that, you'll need to chat up an NPC. Here're the current locations of all Fortnite NPCs: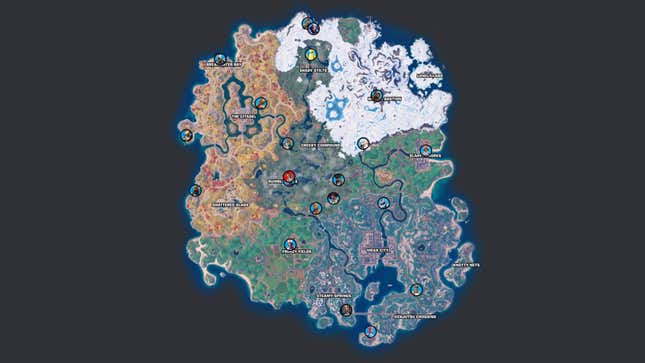 How to reveal enemy players
There are a few different ways to reveal enemy players this season. And with the addition of mud as a form of camouflage, it may be a little harder this time around.
If you grab yourself a Flare Gun and hit another player with it, it'll reveal an enemy, but there's another way. Go over to Peely in Shady Stilts and buy a Shadow Tracker from him for 400 bars. This will not only reveal an enemy when you land a shot, but it has a higher damage-per-second output.
Alternatively, you can hit up a capture point to reveal any enemy in its vicinity. Here are the current locations of capture points: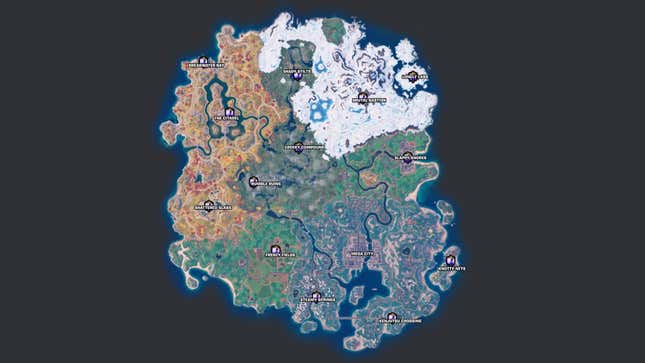 How to damage enemies with Fortnite's Pod Plants
Along with mud, Fortnite has also added some destructive plants for you to annoy your enemies with. Once you complete all of Week 2's quests, your bonus quest will ask you to damage an opponent with a Pod Plant. Pod Plants are likely catch your eye as they're large, colorful plants you'll find around the center of the map.
Head to the Creeky Compound (found in the island's center) and you'll find some. You can either shoot these or strike them with a melee attack to send 'em flying. The purple flowers will cause an explosion. Meanwhile the yellow ones release hazardous fumes. There are also some blue ones you can strike for healing.
---

Since Fortnite's weekly quests are doable at any point during the season, there's no need to rush in knocking them all out right now. The current season runs until August 25, 2023.