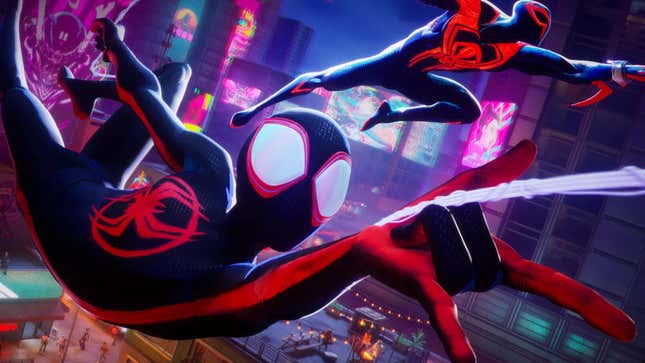 Fortnite has added multiple Spider-Man: Across the Spider-Verse items to its shop, as well as themed quests and extras as part of an update released on May 23. Though the battle royale game has collaborated with superheroes plenty of times before (Fortnite update Twitter account FortniteBR notes there are now a total of 60 Marvel outfits in the game), this update is Miles Morales' big debut.
Dead By Daylight Devs' New Game Is Fortnite Meets Doom
How to get the Miles Morales skin in Fortnite
Both Miles and Spider-Man 2099, the Irish-Mexican character Miguel O'Hara (a Spider-Man from the year—you guessed it!—2099), are now available for the first time in Fortnite's item shop. Both can be purchased for 1,500 V-Bucks, about 12 human dollars, or bought together in the Across the Spider-Verse bundle, which also includes Spider-Ham's Mallet Pickaxe, the 928 Axes Pickaxe, and a Fortnite-branded Spider-Man wallpaper.

The Pickaxes can be bought individually, so if you already own them, you'll have to hand over only 1,600 V-Bucks, the cost of a human yummy burger and fries, a bit over $12.50. But if you don't own the weapons, that'll be 3,500 V-Bucks, A.K.A. the cost of a human gift for Mother's Day, just under $30. I know Fortnite just missed it, but maybe you should buy the bundle, hold onto it, then surprise her next year.

Even more Across the Spider-Verse
Fortnite is also reintroducing springy Spider-Man's Web-Shooters to the game, but in Miles' suit colors. According to an update blog, players can obtain these Web-Shooters by finding them "from the ground or [by exchanging] Bars for them from Spider-Gwen."

"The Spider-Verse Web-Shooters will come in handy for the Week 11 Quests in Battle Royale," the blog continues. "Most of these Quests reward XP, while one of them rewards the Silk & Cologne (EI8HT version) Lobby Track," which features a song from the upcoming Spider-Verse movie soundtrack. Father's Day is coming up. Nothing shows you care like dedicating a Fortnite song to your beloved.