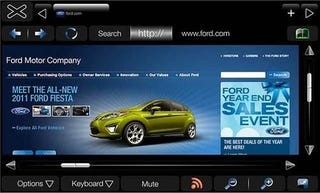 LAN parties on the go could be coming to Ford vehicles this year, the company announced at CES today.
Ford's new MyFord Touch driver connect technology and second generation SYNC system features a WiFi signal receiver that gives passengers wireless internet access in the vehicle. The system lets you plug a compatible USB mobile broadband modem into SYNC's USB port to produce a secure wireless connection that will be broadcast throughout the vehicle.
The system also includes an 8-inch touchscreen that can browse the internet when the vehicle is parked.
Ford doesn't detail what protocols they will be using for the wireless signal, but I'd like to think it's at least 802.11g, though 802.11n is where the real action's at. Of course, all of this will be riding on a cell signal, so don't expect blistering speeds.
Now they just need to add a trackball and a couple of mouse buttons on the gear shifter and we'll be set.