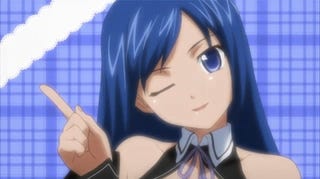 Banana-feeding, booze swilling video game Dream C Club is getting an anime. It will involve singing and girls with giant eyes — just like the game!
The animated version of Dream C Club features song clips and goes on sale in Japan on November 10. The name of this song is "Koi・KOI☆weekend!" with "koi" meaning "love".
You might want to turn the sound down for this. In fact, you might want to turn it off.
This isn't the first adaptation for the game. Previously, a manga version was released.
Dream C Club debuted the Xbox 360 in summer 2009. A prequel, titled Dream C Club Zero, is slated for a December launch in Japan.