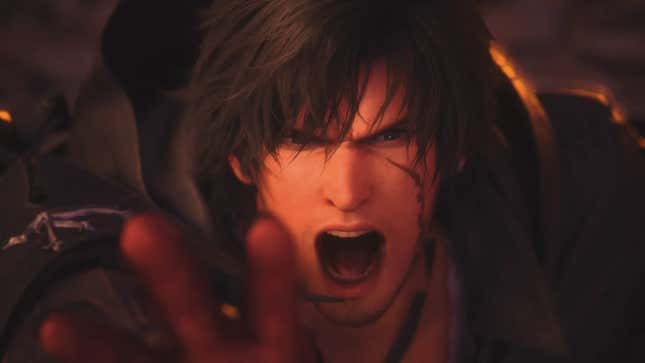 We're not even a whole week out from the release of Square Enix's latest entry in the Final Fantasy series, and yet the voice actor for Final Fantasy XVI's protagonist has already found (and read) gamers' thirsty fan fiction.
I Didn't Play Final Fantasy XVI 'Right,' And That's OK
In a recent tweet, actor Ben Starr (who provides the English voice for FFXVI's Clive Rosfield) let his followers know that he was nursing a bout with jetlag by reading up on some FFXVI fan fiction. Starr concluded his post with a "face with peeking eye" emoji, indicating that whatever he'd read was, perhaps, not exactly wholesome entertainment for the whole family. Seeing as how Archive Of Our Own, a popular fan fiction website, has amassed a total of 82 works of Clive-related fan fiction (30 of which are labeled "explicit"), there's a high probability that Starr has thumbed through some smutty stuff.
Kotaku reached out to Starr for comment. Y'know, for research purposes.

Read More: Congrats, Blaidd's Voice Actor Read Your Horny Elden Ring Tweets

This isn't the first time a voice actor in a recent, popular video game has been exposed to the internet's eloquently written thirst posts lusting after their virtual character. During an episode of Buzzfeed Multiplayer, Scott Arthur, the voice actor behind Blaidd in Elden Ring, read aloud an assortment of thirst tweets directed toward the furry swordsman. Arthur, by and large, was a good sport about the internet's occasionally unhinged fantasies about the soft-spoken warrior. In fact, he even went so far as to post an in-character reaction video to whale Vtuber Bao's thirst tweet.

Listen, all I'm saying is that, should some talented wordsmith impress Starr with their prose, he might be moved to give us his own in-character live read. I pray one of you brave souls has written a fan fiction where Clive switches things up by saying "m'lady" to Cid instead of his childhood friend, Jill. After all, Cid is FFXVI's breakout star and…yeah he's hot. It's what we deserve.