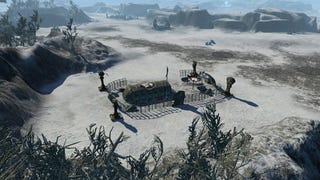 Explore the history of the UNSC/Covenant War through bloody battle this month, with four new skirmish maps for Halo Wars in the Historic Battle add-on pack.
While the first round of Halo Wars downloadable content focused on new game modes, the Historic Battle pack is all about delivering new places to strategically kill the enemy. You'll get two new 1v1 maps in Barrens and Blood River; Memorial Basin, which is a 2v2 map full of wide open spaces; and Glacial Ravine, a large map bisected by snow-capped mountains, perfect for 3v3 play, as seen above.
The pack also comes with four brand new achievements. Add up to 100 points to your gamerscore with:
• Tour Coming Through: Hot drop 50 squads to your Covenant Leader in a single game on Memorial Basin (30 points)
• Never Leave a Man Behind: Finish a game with 5000 net resources contributed to your teammates on Barrens (15 points)
• Drain Cleaner: Kill 20 enemy squads with a continuous Covenant Leader Power on Memorial Basin (30 points)
• Killjoy: Disrupt 5 active Leader Powers in a single game on Blood River (25 points)
The Historic Battle add-on is due out on July 21st for 800 Microsoft points.
Memorial Basin


Blood River


Barrens